J.J. Redick cried over breakfast on Friday morning
The Los Angeles Clippers guard really did not expect his season to be over by now.
• 2 min read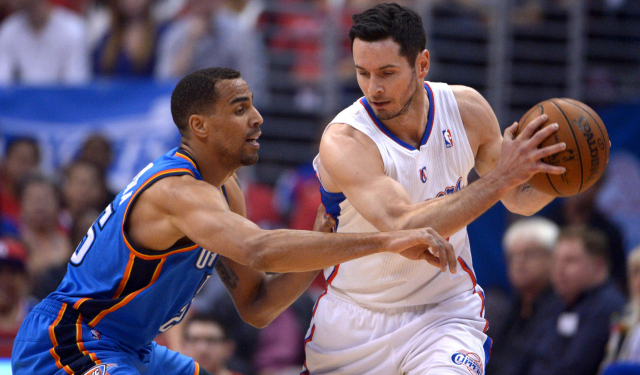 More Offseason Analysis: Coaching changes, news | Free Agency | Draft
The Los Angeles Clippers did not have a typical end-of-season media availability session on Friday. After a postseason spent competing in the shadow of the Donald Sterling mess, you can understand why only J.J. Redick, Blake Griffin and Jamal Crawford spoke to the press. Redick told reporters that he didn't have a pleasant morning after his team was elminated by the Oklahoma City Thunder on Thursday, via ESPN's Arash Markazi:
J.J. Redick was still emotional this morning. Said he was weeping as he was talking to his wife over breakfast.

— Arash Markazi (@ArashMarkazi) May 16, 2014
Redick also commented on the Sterling situation, saying that it looked like it would drag on for a while but making it clear that he wanted the team to be sold as soon as possible:
J.J. Redick on the past month: "As humans you have an emotional capacity for so much."

— Arash Markazi (@ArashMarkazi) May 16, 2014
Redick on Sterling: "I can't imagine a scenario where we start the season next year and he's the owner and all is kosher."

— Arash Markazi (@ArashMarkazi) May 16, 2014
Nothing about the last little while has been easy for the Clippers, and Redick told USA Today's Sam Amick after Game 6 that the saga took its toll on the team, but that it couldn't be used as an excuse.
"Look, we're human," Redick said, his eyes pink and welled up. "But I don't want to say (that Sterling) is the reason. I don't want to say that. I really don't believe that, either. I do think that it was a small part of the emotional process that we all had to go through, but we ran into a good team and two guys that played phenomenal all series and we couldn't get it done.

"I didn't think it was going to end this early. I'm shocked. There were a lot of us who were emotional. I think for me, you wait your whole career to play with a group of guys like this, and you just don't want it to end. You picture yourself all season hoisting a trophy at the end. You don't picture this."
Los Angeles was a championship-caliber squad, and several of Oklahoma City's wins could have gone either way. With the expectations that the Clippers had, falling short isn't easy, and they've already had a trying, taxing time for non-basketball reasons.  
The investigation detailed a hostile workplace environment

Cousins suffered a torn Achilles tendon on Jan. 26, and will miss the rest of the season

Ingram has become one of the team's go-to players with Lonzo Ball sidelined with an injury
Giannis skipped EuroBasket last summer, and has missed four games this season with knee so...

Some of the best and worst from the league as we head into the home stretch of the season

Cuban acknowledged that tanking is 'brutal' and that he will no longer do that after this...