J.J. Redick says the Magic have told him they are not shopping him
J.J. Redick says the Magic have told him they are not pursuing efforts to trade him.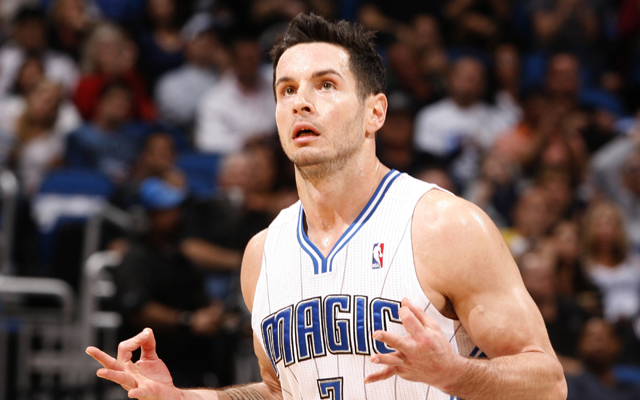 Redick is trying to stay zen about the possibility of a trade.
(Getty Images)
J.J. Redick, against the odds, has been with the Orlando Magic his entire career since being selected with the 11th pick in the 2006 NBA Draft.
He was buried for his first two seasons as then-coach Stan Van Gundy demanded he improve defensively. Then in restricted free agency, he signed a big offer sheet from the Bulls, which the Magic matched.
Then he was consistently included in Dwight Howard trade talks.
And this season, with the team in a rebuilding mode, it's been assumed he'll be moved at the trade deadline when his value is the highest. 
But according to the Magic, via Redick himself, it won't be because they tossed him into the trade waters. From the Orlando Sentinel: 
Magic SG J.J. Redick told the Sentinel after Sunday's win that the club has told him they "are not actively trying to move me."

Various teams, however, are actively trying to land him.
via Schmitz's Take: J.J. Redick: Magic not "actively" trying to trade him - OrlandoSentinel.com.
Now, this doesn't necessarily translate to the truth. This time of year, about 28 of 30 teams are saying, "We're not really making calls, but we'll listen." But if we assume it's true, it still won't eliminate the odds the Magic will move Redick. 
He has more value as a trade asset than as a player to them at this point in this season, with the playoffs out of the question. Teams will call, and when they do, the Magic will have more leverage without going out looking for a deal.
Additionally, who are they going to call? (Besides Ghostbusters.) They don't need anything. They just need talent, picks, and cap relief. Teams know what they need and what they want. If they want Redick, they just have to call. 
Redick told CBSSports.com in January that this year has been the most active year for trade rumors in his career. He said he had to stop reading the Internet and just focus on the season.
But the Magic's stance does slightly reduce the chances he'll be dealt. If they like him enough to not actively shop him, there's always the possibility he stays. It would be a mistake by the Magic, who gain nothing from his stellar play for the rest of this year and afterwards Redick is a free agent. But it's still possible. 
Redick might stay blue this season. 
Thomas spent a day with a 10-year-old girl whose family is also new to Cleveland

Barkley did not hold back with his opinion of the Big Baller Brand patriarch

We've got all the latest scores, highlights and news from Wednesday's NBA games
LaVar Ball also made it clear he thinks his sons are being placed in 'a great situation'

The Thunder are just 12-14 on the season, despite the addition of Paul George and Carmelo...

The then-Heat teammates squared off during the 2011 ECF, but Erik Spoelstra put a stop to the...