J.J. Redick wants DeAndre Jordan to shoot free throws right-handed
Is DeAndre Jordan really left-handed? He says so, but his teammates aren't so sure.
• 1 min read
Maybe everything you know about Los Angeles Clippers center DeAndre Jordan is wrong. OK, probably not, but maybe one thing you know about him is wrong. Is it possible that he is really right-handed, not left-handed?
Clippers forward Paul Pierce can't tell, and guard J.J. Redick has been telling him to shoot right-handed from the free-throw line for the past two years, via the Orange County Register's Dan Woike:
In the Clippers' 40-point win over Phoenix on Monday, Jordan showcased his right hand, scoring in the post with it, putting the ball on the floor with it for a driving layup and even hitting a sweeping hook shot.

After the game, J.J. Redick, maybe jokingly and maybe seriously, said for the past two sesons he has told Jordan to shoot free throws with his right hand.

"He jumps off his left foot, which is how most right-handed people jump," Redick said. "Their left foot is their dominant foot. He shoots every single jump hook, and tonight, running hook, with his right hand. He finishes around the basket with his right hand. He's really good at it."

Tuesday, Jordan made it clear.

Despite throwing with his right hand, despite jumping off his left foot, despite swinging a golf club or tossing a bowling bowl with his right hand, he's not a righty – or even ambidextrous.

"No," he said, "I'm left-handed."
Jordan insisted that there is no mystery here, which is a shame. This Clippers season has had almost everything, but I wouldn't say it has had mystery. The 42.5-percent free-throw shooter also declared that he would not be taking Redick's advice.
Cleveland Cavaliers forward Tristan Thompson changed his shooting hand three seasons ago, and he hasn't exactly become a marksman. Still, it would be interesting to see Jordan try something new. Personally, I'm hoping that Redick -- the only active NBA player with a weekly podcast -- to use his platform as a media personality to campaign for his teammate to switch it up. He could encourage people to tweet at Jordan and bring signs to games. Maybe if enough people pressured him, he'd give it a try.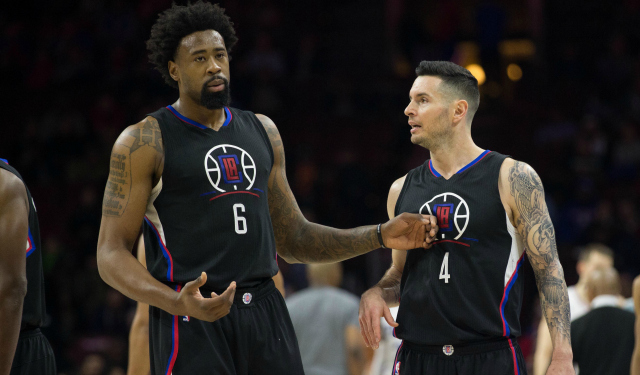 Lakers rookie got his shot to fall, thanks in part to some of the worst defense you will ever...

The singer of the national anthem at the Nets game took a knee at the end

This was the Lonzo Ball people were expecting out of college
Antetokounmpo finished with 34 points, 8 rebounds, 8 assists, and 3 steals, but the Cavs won,...

John Wall is proud of his ability to block shots and thinks nobody at his position has been...

Giannis went at LeBron on a fast break, but LeBron won the matchup