Joakim Noah could miss Bulls' opener against the Heat
Joakim Noah is working back from an injury and his conditioning isn't great. So because of it, he could miss the Bulls' opener against Miami.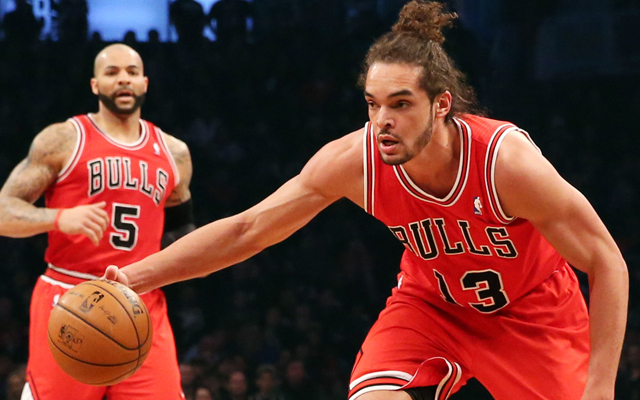 Derrick Rose is back and will be ready when the Bulls open their season against the Miami Heat. 
But the Bulls still might not be completely at full strength. 
Via the Chicago Tribune, Joakim Noah said it's "possible" that he missed the opening game against the Heat and that he's "not there yet" in recovering from a strained groin. 
Coach Tom Thibodeau said Noah's conditioning is "not very good" yet.
"He's completely deconditioned, so we're very concerned about that," Thibodeau said.
The Bulls have also been without guard Kirk Hinrich who is recovering from a concussion, and while Thibodeau indicated he's not all that close either, the Bulls' guard thinks he'll be ready to go against Miami.
"I feel better," Hinrich said. "I plan on being out there."
Noah obviously is an extremely critical player for the Bulls both on the court and emotionally on the bench and locker room. But it's just the first of 82, and while he wants to play, he understands he needs to be ready in April, not October.
"I want to be out there as soon as I can," he said. "I just don't want it to linger. I have to be smart. It sucks. There's nothing more that I want than to be out there on the court."
LeBron's minutes are a common point of discussion this season

Kevin Garnett thinks a one-and-done rule change would benefit schools more than anything e...

The Warriors are light years ahead, but James Harden is off to a red-hot start with the Ro...
Victor Oladipo is playing the best basketball of his career, and it all came together against...

McCollum hurled a clever insult at the French forward

Hosts Bill Reiter and Reid Forgrave are joined by Blazers guard CJ McCollum