Joakim Noah hurt but isn't mad at Bulls for trading Luol Deng
After silence to the media about the deal, Joakim Noah talks about why he's hurt the Chicago Bulls traded Luol Deng but says he isn't mad at the organization.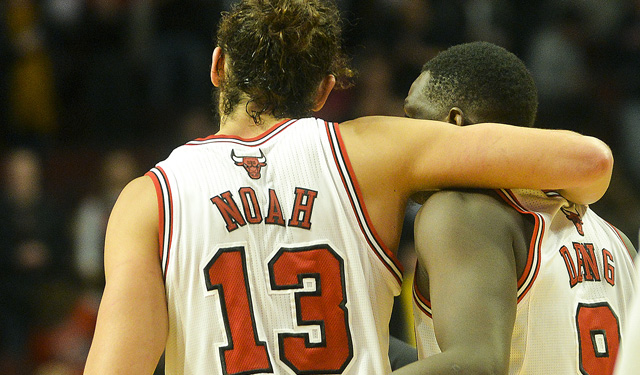 When Luol Deng was traded to the Cleveland Cavaliers, Chicago Bulls center Joakim Noah was silent about the deal. In fact, he hadn't talked to the media at all in the aftermath of the trade until Saturday. Deng was one of Noah's closest friends on the team and he definitely took the news of the deal hard. But he's finally ready to talk about the trade and his expectations of the Bulls' organization.
He informed everybody that he's not mad at the team for making the move; he just needed time to digest it and move on. He wants the team to still compete and has been told they aren't tanking by any means. 
Noah: "The trade definitely hurt but we got to move on."

— Nick Friedell (@NickFriedell) January 12, 2014
Noah: "A lot of people say that this is a business. But this game is more than a business to me. I put everything I got into this."

— Nick Friedell (@NickFriedell) January 12, 2014
Noah: "I feel like Lu was the same way. It was hard for me to digest ... I'm not mad at anybody. I'm not mad at the organization."

— Nick Friedell (@NickFriedell) January 12, 2014
Noah: "It's just that my brother isn't here anymore. So I just needed a little bit of time to digest that."

— Nick Friedell (@NickFriedell) January 12, 2014
I think it's hard to look at what the Bulls did in this trade and say it was made to make them a better team during this season. Perhaps it's not outright tanking by the Bulls but it's also not setting them up for a playoff run that Noah wants to make. This was a move for the future and the future usually involves racking up a few more losses in the present.
Currently, the Bulls are 17-18 and sitting in the 5-seed in the Eastern Conference. They've won five straight games with three of those coming after the Deng trade. 
Trump rescinded Curry's invitation to the White House after Curry said he wasn't interested...

Silver said he was hoping Warriors would get chance to share their views directly with the...

Along with the Thunder, those were the three teams most involved in the Anthony trade talk...
LeBron said he was frustrated by the President's recent actions

A look at the various actors and elements in the latest sensational blockbuster trade in the...

Blockbuster deal doesn't change the Thunder's projected finish in the West