Joakim Noah out at least a week with groin injury
Bulls center "shut down" to accelerate healing of groin injury.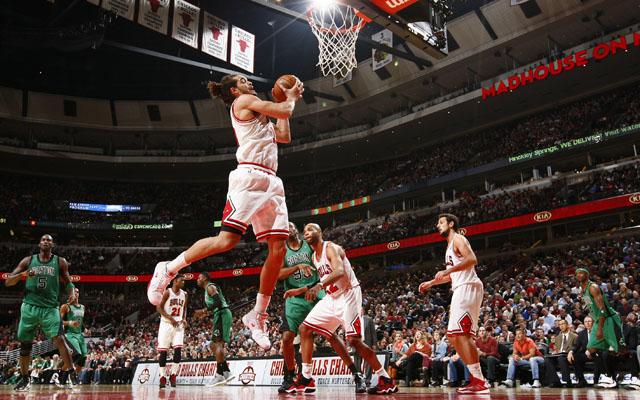 Joakim Noah has missed time with the Bulls as a precaution due to a groin injury, and now Bulls coach Tom Thibodeau has announced that they're "shutting him down" for a while. 
"We're going to shut Jo down," Thibodeau said following the team's shootaround at the United Center. "He's got a little soreness (in his groin) so we want to make sure we get that taken care of. So probably another week or so. We just want to make sure he's completely healthy before we move forward."
via Sore groin to sideline Noah | Blogs.Bulls.com.
That's not great news as Noah has had trouble with injuries the past two years. He struggled with plantar fasciitis last year and had to battle through it in the playoffs. 
Both Thibodeau and Noah say the injury is healing, just not at the rate they want. So they're shutting him down for at least a week. Anymore than that, and you're looking at him missing the Bulls' season opener in Miami vs. the Heat. The Bulls depend on Noah more than they did in 2011, with Omer Asik now in Houston. Their backup is Nazr Mohammed who played well last year in reserve time, but isn't meant to be a starter. For a team that relies on its defense as much as the Bulls, losing Noah would be pretty significant to their efforts to get off to a hot start. 
George appeared to show some frustration with the Pacers following the trade to OKC

It's worth wondering whether or not Wade will be in the Cavs' starting ilneup

Nurkic is confident Portland will be a tough team to beat, and says it must begin on defen...
Wade, recently bought out by the Bulls, could finalize decision as early as Wednesday

James said nothing has changed from 2014 when he said he'd retire a Cav

The Warriors are in control, but every team has reason for optimism as the preseason begins...