Joakim Noah says he's '100 percent' playing against the Heat Tuesday
Chicago Bulls center Joakim Noah won't let a strained right groin keep him out of the season-opener against the Miami Heat on Tuesday.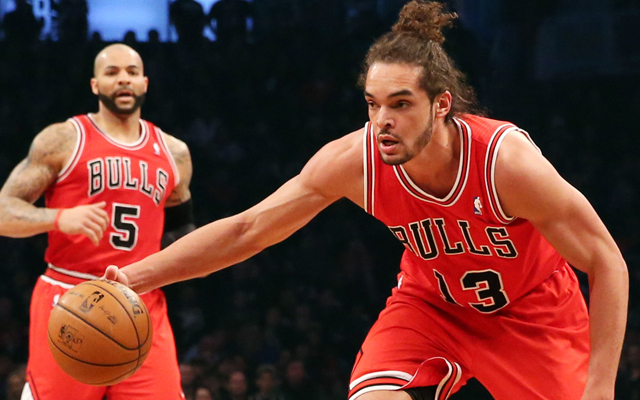 There has been some confusion as to whether or not Chicago Bulls center Joakim Noah would be healthy enough to play in the season-opener Tuesday night when the Miami Heat receive their rings and raise their third championship banner. Noah has missed all but one preseason game for Chicago with a strained right groin. As of a couple of days ago, Noah wasn't a lock to play in the team's first game of the year.
Now Joakim Noah is saying he is a lock to play. K.C. Johnson of the Chicago Tribune tells us that Noah says he's "100 percent" positive that he'll play against the Heat in Miami on Tuesday. He's apparently not going to let the Heat have an easy time enjoying their ring ceremony.
Noah said he's "100 percent" sure he's playing vs. Heat.

— K.C. Johnson (@KCJHoop) October 27, 2013
This is good news for Noah and the Bulls. Keeping him out of the majority of the preseason doesn't help him build chemistry and cohesion back up with Derrick Rose, but it's unlikely they will need much time together to remember how to play with one another. If the games off in the preseason allowed Noah to give his groin ample rest then hopefully it won't be too much of a bother to him to start out this season.
Wade opted in to his $24 million player option earlier this summer

Barkley spoke to the NFL Today crew about the response the president received in his home...

The restricted free agent has a deal in place that will keep him with the Bulls after a st...
James' support continues his trend of social activism on social media

The newly-acquired All-Star thinks the addition of Anthony boosts the Thunder in the NBA's...

The Knicks were asking for the house in discussions for Carmelo Anthony