Joakim Noah trades expletives with Wizards' manager/security
Don't try to get Joakim Noah off the court before he's done with his workout, unless you're willing to exchange some words.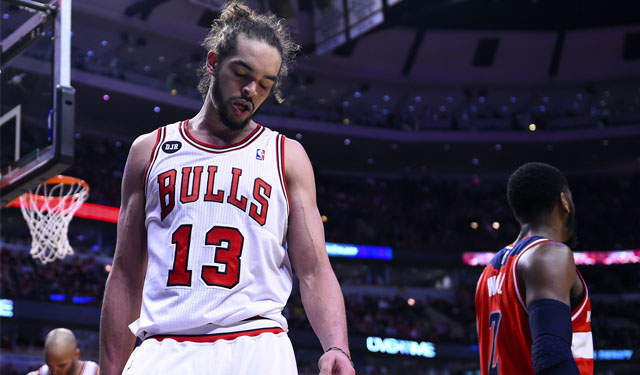 More Playoffs: Schedule | Threat Matrix | Previews: East | West | Picks
NBA players are very dedicated to their workout routines, especially on game day. They want to make sure they do the necessary work to prepare them for the game in order to be in top physical and mental condition to get the job done. They're not receptive to cutting their work off quickly. Just ask Joakim Noah of the Chicago Bulls or Washington Wizards' manager/security Jackie Miles.
According to Joe Cowley of the Chicago Sun-Times, the Wizards' security man and the Bulls' center got into an exchange of expletives when Miles was screaming for Bulls' players to get off the court so the Wizards' players could have their own shootaround. Noah didn't take too kindly to the orders, fired off some f-bombs, Miles fired back, and some reporters and personnel got a fun little show.
Joakim Noah and Wizards manager/security man Jackie Miles got into a back-and-forth exchange of expletives, after Miles came onto the Verizon Center hardwood, and started screaming for Bulls players to exit so the Wizards could start their shootaround.

Noah is usually the last Bull off the court in shootarounds, going through his morning routine, and wasn't having any of it.

Noah told Miles, "Get the [bleep] out of here, I'm not done … get the [bleep] out of here.''

Miles started firing back with, "Don't [bleeping] talk to me that way,'' and then again telling Noah to leave the court.

It didn't stop there, as the two went back-and-forth for at least another minute, while Bulls coach Tom Thibodeau was addressing the media just off the court.
I would have actually paid a decent amount of money to watch this exchange.
The Bulls are probably already feeling the pressure of dropping the first two games at home to the Wizards and now have to steal at least one games in Washington, D.C. against the Wizards if they want to keep their season alive. One game would be good, but they really need to take both Game 3 and Game 4 to make sure they have a chance to win this series. 
The Wizards and their personnel can really needle them and add more fuel to the fire, but they should be pretty careful about giving the Bulls any extra motivation when they already have their backs against the wall. Regardless, we're going to have a pretty fun environment for Game 3 and if the Bulls win, especially Game 4. 
Among the questionable decisions by Jackson was signing Noah to a long-term, lucrative dea...

This Akron store doesn't want their hometown hero to leave again

Milwaukee's star did not get cleared to play for his national team due to a painful knee i...
Ball, the second overall pick in the NBA Draft, is receiving even more hype

Rap mogul supports the vision the outspoken father has for his brand and sons

Deciding who to watch on League Pass can be difficult, but these rankings promise to help