Joakim Noah voted Defensive Player of the Year
The Bulls' Joakim Noah easily won Defensive Player of the Year honors, the NBA announced Monday. Noah wins the award for the first time in his seven-year career.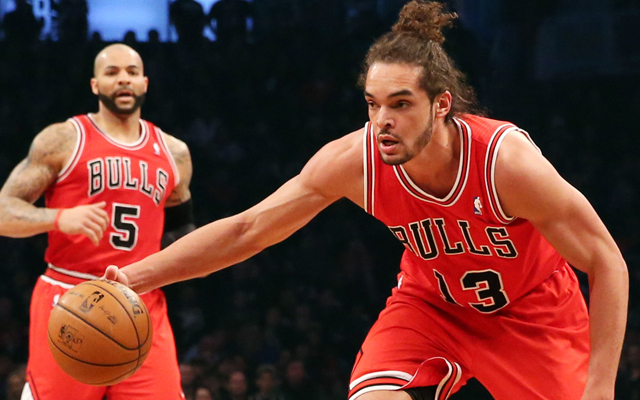 More postseason coverage: Playoff schedule, results | Latest news, notes
Update 5:31 p.m.: The league has made it official. Noah is the Defensive Player of the Year. 
Your total vote-getters: 
Joakim Noah: 555
Roy Hibbert: 166
DeAndre Jordan: 121
Serge Ibaka: 79
Andre Iguodala: 47
LeBron James: 31
Paul George: 30
Anthony Davis: 25
Dwight Howard: 25
Andrew Bogut: 11
Kawhi Leonard: 9
P.J. Tucker: 6
Tim Duncan: 5
Chris Paul: 5
Trevor Ariza: 4
Marc Gasol: 4
Patrick Beverley 2
Noah, who anchored the league's second-best defense in terms of defensive efficiency, has been the heart and soul of the Bulls this season after the team lost Derrick Rose to injury and traded Luol Deng to the Cavaliers.
The Bulls allowed only 97.8 points per 100 possessions, which is an insanely good number, and it's largely due to the fact that Noah was the backbone of it. Noah ranked No. 1 in Defensive Rating at 95.8 (estimated points allowed when he's on the floor) and Defensive Win Shares (an estimation of how many wins his defense contributed to) with 6.6.
Noah's defensive impact has always been in his energy and versatility. He can successfully defend any center in the league, while still being able to step out on a switch and check smaller guards. And the fact he plays so hard brings it all together.
Noah, 29, averaged 12.6 points, 11.3 rebounds, 5.4 assists, 1.5 blocks and 1.2 steals this season for Chicago.
The inaugural BIG3 season comes to a close Sunday with the championship game

Thomas was traded to Cleveland yet some fans are taking it out on him ... and his jerseys

The Celtics dealt the No. 1 pick to Cleveland as part of the Kyrie Irving-Isaiah Thomas tr...
Thompson was rumored to have been a point of discussion with the Cavs regarding Kyrie Irvi...

What the Celtics and Cavs look like after the Eastern Conference powers swap point men

Simmons was the No. 1 pick in the 2016 NBA Draft but did not play last season