Joe Dumars denies trade talks for Rajon Rondo, Brandon Jennings
Pistons GM Joe Dumars says the Pistons have not held trade talks for Rajon Rondo ... kind of. Brandon Jennings also not true.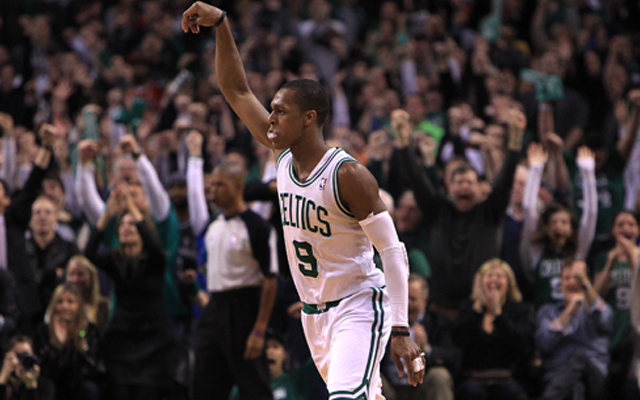 Detroit Pistons GM Joe Dumars laughed off recent reports that the Pistons discussed a trade for Celtics point guard Rajon Rondo or a sign-and-trade with the Bucks for point guard Brandon Jennings. 
Detroit Pistons president of basketball operations Joe Dumars denied offering Brandon Knight to the Boston Celtics for Rajon Rondo.

He also said he hasn't even mentioned Milwaukee Bucks point guard Brandon Jennings with Bucks general manager John Hammond, a former assistant GM with the Pistons under Dumars.

"Never happened, never even a conversation about Brandon," Dumars said of the Boston Globe report over the weekend. "And today I saw something about Brandon Jennings.

"John Hammond and I were on the phone talking about our dogs."

When pressed to say more about how Rondo would fit with the Pistons, Dumars added: "At this point, I really can't start talking about somebody else's player. That trade rumor is not true."

The Pistons did ask about the availability of Rondo, but it never reached the stage of potential players who would be involved in such a move.
via Detroit Pistons' Joe Dumars denies Brandon Knight-for-Rajon Rondo rumor, interest in Brandon Jennings | Detroit Free Press | freep.com.
Interestingly, the original report said the Pistons had interest in Rondo but lacked the necessary components to get a deal done. Dumars said the trade rumor is not true, then acknowledges that the Pistons asked about the availabilty of Rondo. Which sounds ... exactly like what the original report described. 
Here's how to interpret this. Dumars considers it trade talks only if it reaches a stage where both teams are open to a deal and have discussed players. The Pistons called the Celtics and asked what it would take, the Celtics told them, and then the Pistons were basically like, "Oh, cool. Thanks. Have a great day!" 
The Jennings component may have been the product of Jennings' camp desperately seeking to boost the available offers on the table, as Jennings' worth has plummeted in restricted free agency. Teams aren't going to make reasonable offers, knowing the Bucks are likely to match, and teams aren't going to make unreasonable offers because of the complications that come with Jennings, particularly for small market teams after Jennings has bucked (forgive the pun) against staying in Milwaukee for a solid season. 
Either way, don't take Dumars' word at face value, but do appreciate the fact that he was clear to avoid talking about the Celtics' player. He knows how to follow the rules and avoid tampering violations. 
SportsLine's computer model simulated Celtics vs. Cavs 10,000 times with surprising result...

There are a lot of rumors, but Irving is keeping quiet about his motives for leaving Cleve...

From the Warriors to the new superteams to the Sacramento Kings, get ready.
Brett Brown said recently that Embiid's minutes would likely be in the teens to start the...

According to D'Antoni's specific plan, Houston's All-Star duo will play 18 minutes together...

Mike McClure, a DFS pro with more than $1M in winnings, gives optimal DraftKings and FanDuel...