Joe Dumars to breaking bottles: Journey down the rabbit hole
Trying to waste time on a Friday while you're at work? Take a journey down the NBA internet rabbit hole and check out the places we can go.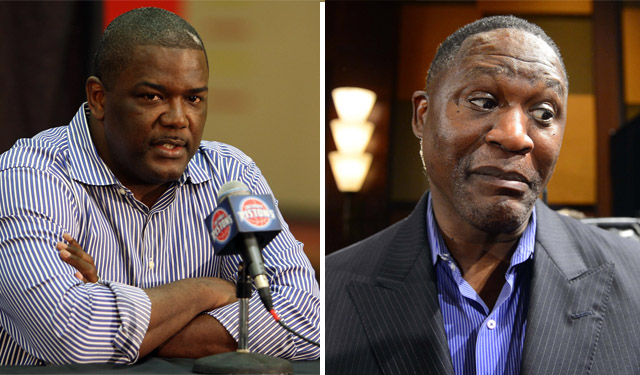 It's Friday and a lot of people are usually just trying to kill time throughout the day so they can get to the weekend. Granted, some people work on the weekends anyway, but there is still the release of getting to join up with your friends' weekend festivities at some point. That foam party isn't going to go to itself, after all (do people still do foam parties?). 
A great way to kill time is simply finding stuff on the internet to look at and see where it takes you. The tangential nature of the internet can find you way off topic from the original article, YouTube video, or source in the blink of an eye and you can't remember how you went from reading Ken Berger's article on Jerry Stackhouse's comments about LeBron James and the players union to looking at clips of people playing Excite Bike on NES.
I often find myself going down a YouTube rabbit hole just by being distracted by the shiny object that is the suggested videos bar. But an internet rabbit hole can go beyond the great YouTube experience. I thought in an effort to help you kill time, I'd give you a guide on how I went from reading an interview with Joe Dumars of the Detroit Pistons to watching a video of people trying to break bottles over their heads. Let's take a journey down the rabbit hole.
It's Friday; what else do you have to do?
First Stop: Joe Dumars
Zach Lowe at Grantland had a very interesting sit-down Q&A with Joe Dumars, the president of basketball operations for the Detroit Pistons. Dumars has been all over the place as an executive for the Pistons. We're going into the 14th season of executive Joe and it's been a wild ride. He drafted Darko Milicic over future star players like Carmelo Anthony , Chris Bosh , and Dwyane Wade (even  Chris Kaman would have been about 100 times better!) in the same year that he made an incredible trade for Rasheed Wallace that ended up netting the Pistons the 2004 championship.
Dumars also traded for Allen Iverson one year and then gave Charlie Villanueva and Ben Gordon a combined $95 million the next summer. Joe D has a lot of range. Recently, he signed  Josh Smith to a big deal and then managed a sign-and-trade for Brandon Jennings , giving the Pistons one of the most intriguing cores in the entire league. 
In the sit-down with Lowe, Dumars gives a lot of interesting tidbits about the process of the moves, what he feels about the character and abilities of the players, and even gives a little tough love to Greg Monroe and his defense. But there was one thing he talked about that sent me off on a tangent and began our journey in this post.
Smith and Al Horford ran a mean big-big pick-and-roll in Atlanta.

Exactly. That's because Josh can really pass the ball. He can deliver. When you have frontcourt guys who can pass the ball … that's why Marc Gasol is so, so good. That's why with Vlade Divac and Arvydas Sabonis, centers who could really pass it, you don't worry about what the system is, because whatever it is, they are going to figure it out.
The mention of Arvydas Sabonis and his passing ability sent me straight to YouTube to find a highlight mix of his ability as a player. There are plenty of young basketball fans that have no idea who Sabonis was or just how incredible he was. You can read about him later but for now, let's just watch the magic happen.
Arvydas Sabonis highlights
Some of these plays by Sabonis were just unreal for a big man to be making. He had these massive hands that made the basketball look like a Nerf ball, and still managed to keep an incredible touch to give him the ability to shoot from outside, flip a hook shot in from 12 feet, or drop a pass at any angle. 
The Sabonis highlight real led me reading up more on him on his Wikipedia page to find more sources of stuff to read about him. Even though you're not allowed to cite Wikipedia as a source on your papers in school doesn't mean you can't use it as an outlet to find the stuff you need, kids. Arvydas was an incredibly interesting figure because he was the best big man in the world at a time when Kareem Abdul-Jabbar was headed into his twilight years, Patrick Ewing and Hakeem Olajuwon were finding their games in the NBA, and Moses Malone was still a monster of a player.
Sabonis was also not allowed to come over to the NBA by the Soviet Union authorities until 1989 after he had been through some pretty serious Achilles issues. Once he led the USSR to a gold medal win in the 1988 Olympics, he was free to go to the NBA if he wanted. 
Sabonis was selected by the  Atlanta Hawks  with the 77th pick of the 1985 NBA Draft. However, the selection was voided because Sabonis was under 21 at the time of the draft. The following spring, he suffered a devastating Achilles' tendon injury. Nevertheless, he was selected by the  Portland Trail Blazers  with the 24th pick of the 1986 NBA Draft.

Sabonis was not allowed to play in the NBA by Soviet authorities until 1989. However, he did go to Portland to rehabilitate his injury with Blazers trainers. He also practiced with the team.

In the 1988 Summer Olympics, Sabonis led the Soviet Union to a gold medal with a win against a United States team that featured future NBA All-Stars David Robinson, Mitch Richmond and Danny Manning in the semi-finals.
While I was reading the Wiki page for Sabonis, I came across the name Danny Manning. Manning was one of the better college basketball players in the 1980s and was supposed to be a can't miss prospect. Unfortunately much like Sabonis, he suffered some pretty big injuries and it destroyed his quickness and mobility when he was in the NBA. He still carved out a really nice career for himself because he was just that talented. However, it was not nearly the career he was "supposed to have."
Danny Manning search
I threw Manning's name into the old Google machine because I wanted to see what would come up for articles rather than just searching out highlights on YouTube (although if you want a good one). One of the first things that came up was this Deadspin article that was going around asking pro athletes to describe how they knew their career was over. It's not quite as depressing as sitting through the movie Marley & Me (Sources say I may or may not have been a wreck during the final 40 minutes of that movie) but it was kind of chilling to read Manning's thoughts on what that feeling was like (the feeling of knowing your career is over, not watching Marley & Me; I have no idea if he's seen it or not).
I found this part of his discussion about the realization he might not be the same player after blowing out his ACL and figuring out if he needed to reinvent himself as a player fascinating:
The first few games you're feeling your way around. You're trying to adjust and get used to it, and you kind of hit your stride. I felt like I was hitting my stride. And then to blow your knee out, and have that taken away from you? That was ... that's tough. That's a very hard situation to be in. Because, at that point in time, the best way that I knew how to handle the situation was to kind of remove myself from the team.

I still went to the games when I was able to go, but professional basketball was the ultimate goal again, and it drops down to: "Rehab is the most important thing that I can do. Rehab is the best part of my day, every day. Each day I become a step closer to doing what I ultimately want to do again, which is play in the NBA." So the focus changes to not basketball per se, but to putting myself back in a position where I can play basketball.

The first thing that floated through my head at the time that I had my first injury was, it was career-threatening at that point. I think Bernard King was on his comeback trail from his ACL at the time. And I thought: "Worst-case scenario, I reinvent myself as a player. I go from the type of player that I've always been to … you know, I'm still 6-10 [laughs]. So, I won't move as quick. I won't be able to do some of the things I've done in the past, but I can be more of a traditional inside player, if need be."
Considering Manning's career while reading this, I started to think of what type of player he was on the Los Angeles Clippers . During the 1992-93 season, the Clippers had one of the more underrated and entertaining cores in the league. With Danny Manning, Ron Harper, and Mark Jackson, the Clippers could really put on a show. 
In the 93-94 season, Danny Manning was having another really good season when he was traded for Dominique Wilkins. Wilkins was 34 at the time and about to become a free agent in the summer of 1994. The Hawks were in first place in the Eastern Conference and traded their leading scorer at the trade deadline. It's the only time in NBA history that a first place team in a conference traded their leading scorer after the All-Star break.
We've been shown all of the highlights from Nique when he was on the Hawks but what about when he was on the Clippers? To the YouTube mobile!
Remember Dominique Wilkins on the Clippers?
All of those highlights for Nique against the Los Angeles Lakers came in a game in which he scored 42 points and grabbed 11 rebounds. He saw a boost in his scoring from 24.4 points per game with the Hawks that season to 29.1 points per game after the trade to the Clippers. Either he was trying to prove a point or trying to take advantage of a stretch run with his expiring contract, but regardless he put on a fun show.
Hey, I had a Nique Clippers Starting Lineup Action Figure
When I was a kid, I had a Dominique Wilkins Starting Lineup Action Figure (they're not dolls, mom!) of him in a Clippers' uniform. I always thought it was weird that I didn't have one of him in a Hawks uniform but the Clippers one was the only one I ever found in stores. I had some pretty cool ones, if I recall (well, as cool as something like that could be). It was before the rippling, HGH version of the McFarlane Toys you see now. They just had subtle details on them.
I know I had a Michael Jordan one and a Magic Johnson one. I also had two different David Robinson versions, which is an odd decision. There was even a Boston Celtics ' Danny Ainge one in my collection, which I probably thought was Larry Bird when I got it before I knew any better. Amazingly, if you do a Google machine search for Starting Lineup toys, a pricing guide comes up with links to all sorts of eBay listings for these things.
There is even a pricing guide. I thumbed (clicked?) through the pricing guide online and just started going year by year. The first year these came out was 1988 and they were actually developed by a former Cincinnati Bengals player Pat McInally. The 1988 lineup (no pun intended... OK, maybe a little pun) is pretty fun to check out until I noticed something...
Thurl Bailey costs how much?!
The Thurl Bailey figurine is listed on that pricing guide for $150. ONE HUNDRED AND FIFTY UNITED STATES OF AMERICA DOLLARS! I'm sure it's a supply and demand thing at some point but even John "Hot Rod" Williams' figurine is only going for $25 at this point. What would compel someone to list their Thurl Bailey Starting Lineup action figure for $150 and would anybody actually come through on that price point?
Although this is ridiculous, it led me to wondering what Thurl is up to these days. Let's go back to Wikipedia:
Bailey currently is a public speaker, a broadcast analyst for the

Utah Jazz

and the University of Utah, an actor, and a singer/song writer. Bailey's music includes uplifting songs as well as a fusion of R&B and Nu Soul. His albums include Faith In Your Heart (1998), The Gift of Christmas (2001), and I'm Not the Same (2002). In addition to his music, he has appeared in a few films.
Bailey's career as a musician triggered me remembering a conversation I was having with CBSSports.com's Matt Moore on the Eye on Basketball Podcast earlier this week. We started talking about Iman Shumpert 's unnecessary response (unless he feels he's the real King of New York) to Kendrick Lamar's vicious bars he unleashed on an otherwise horrendous effort by Big Sean and Jay Electronica. Matt mentioned the old B-Ball's Best Kept Secrets album from back in the day.
This was a CD in 1994 with 16 tracks, all being rapped by NBA players. It included such hits as "Flow on" by Cedric Ceballos and Warren G to "Livin' Legal and Large" by Gary Payton. I wondered if there were any music videos on YouTube from this album so I decided to search "NBA players' music."
What is Shawn Michaels doing on this search?
Imagine my surprise when a wrestler being at a San Antonio Spurs ' game was one of the first things that came up on this search. I mean... why? Why would this come up for "NBA players' music" at all? How much had YouTube been drinking? Ah hell, let's just watch the video:
I used to be a big wrestling fan from like age 7 to age... let's just say... 11 or 12. Then I found out wrestling was fake and not even Razor Ramon flicking toothpicks at people could keep me around. But when I was a fan, I loved watching the high-flying acts jumping off the third turnbuckle and drop-kicking guys from the concession stands. 
One of my favorite tag teams happened to be the Rockers and seeing Shawn Michaels going after The Coyote at a Spurs game brought back the memories of when Shawn Michaels "broke up" with Marty Jannetty at a fake barbershop. At the time, I was devastated this happened. It wasn't just because I was trying to figure out why the Ultimate Warrior and Rowdy Roddy Piper would give their DNA for a cloning exercise that generated Brutus The Barber Beefcake (what a name!) but I didn't want to see The Rockers break up. 
Hey remember the Rockers?

WWF The Rockers split up on the barber shop by ThrowbackForums
I wonder if Leah Remini intentionally styled her hair after Marty Jannetty or if this was just a coincidence? Also, "what an act of cowardism" is one of my new favorite phrases.
Anyway, knowing now that all of this was just one big show, it got me thinking about the fake glass window he was thrown through. I've always wanted to go to one of those acting classes just so you can go through process of breaking fake bottles over your head. Thinking about the movies and TV shows where they break a bottle so easily made me want to look up this thing on YouTube and try to find a montage of clips in which this is happening.
I didn't find that but I did find...
Want to watch people try to break bottles over their heads? Of course, you do.
Warning: I'm pretty sure this video is clean enough but there may be some muffled swearing by the participants or in the background of this video. It's possible this is NSFW so just be mindful of that when you watch it. Enjoy!
Don't try that at home, kids. It's only for professionals like those guys to try. If you do become a professional though, it's the best way to prepare for a nice jam session with your friends. 
That's it for this week's (and the first) journey down the rabbit hole. I hope it helped you waste your time enough to help move the workday along. We'll go down a new one next Friday.
Golden State raised its second banner in three years. Now they start their run for another

Hayward's injury left the Celtics shocked for a moment.

The 11-carat rings hold more diamonds than any other ring awarded in any other major sport...
The Cavs were supposed to honor their ex-star but ended up not showing the tribute video

James has a plan for his oldest son if they were ever to meet in the NBA: 'I'll foul the s---...

NBA players expressed their emotions after seeing Gordon Hayward suffer a gruesome ankle i...