Joe Johnson: Other than LeBron, Wade, Nets 'more talented'
Nets guard says that his team is more talented, which is adorable.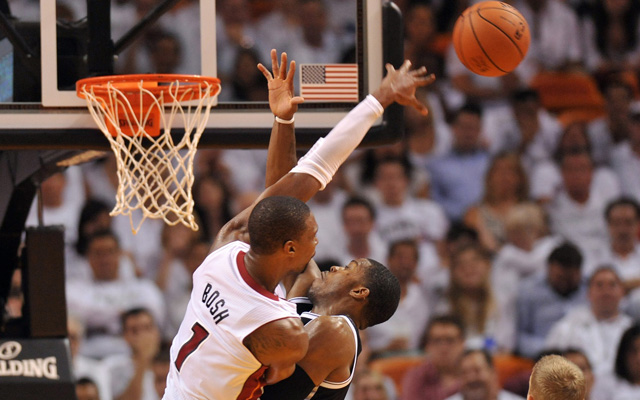 More postseason coverage: Playoff schedule, results | Latest news, notes
The Brooklyn Nets have been outclassed in two games vs. the Miami Heat. After sweeping the Heat in the regular season, Brooklyn has looked slow, and like they simply aren't ready to compete with Miami, despite being in the game until late in Game 2. The Heat have won nearly every positional and tactical advantage. 
But Joe Johnson says that there's no reason Brooklyn can't compete, since outside of LeBron James and Dwyane Wade, the Nets are more talented. From the Miami Herald:  
Nets swingman Joe Johnson amused me Wednesday with this: "Outside of LeBron James and Dwyane Wade, we're more talented than them.
via Sports Buzz | The Miami Herald.
Is he evaluating this based off of salary? Because if so, that makes sense. Otherwise, there's a few problems here. Mostly that Chris Bosh, who has destroyed the Nets in this series, is more talented than any single player on the Nets, including Johnson (who has been truly great this season). 
It's important to note that this is one quote from a pre-game interview. The comment could have been taken out of context by the Herald reporter. If that's what he meant, though... there are some issues. 
Deron Williams may be talented, but he hasn't shown up and has been outplayed by Mario Chalmers. Let's run that back. The more talented point guard has been outplayed by Mario Chalmers. Kevin Garnett and Paul Pierce are certainly more talented... if we're transporting ourselves and this post back to 2007. The Nets' bench? Well, let's see. Miami has Ray Allen, Udonis Haslem, Chris Andersen, Norris Cole, and if we're just going to go on talent, Michael Beasley and Greg Oden. 
The Nets have Mirza Teletovic, Andray Blatche, Alan Anderson and I mean seriously are we talking about this? 
It's nice that Johnson likes his club. After all, they're certainly paid to be thought of that way. 
Barkley spoke to the NFL Today crew about the response the president received in his home...

The restricted free agent has a deal in place that will keep him with the Bulls after a st...

James' support continues his trend of social activism on social media
The newly-acquired All-Star thinks the addition of Anthony boosts the Thunder in the NBA's...

The Knicks were asking for the house in discussions for Carmelo Anthony

Steve Kerr has given his response to Donald Trump in writing