Joe Johnson out Friday, Deron Williams hurt for Nets
Deron Williams has been hurting, and Joe Johnson is out Friday for the Nets.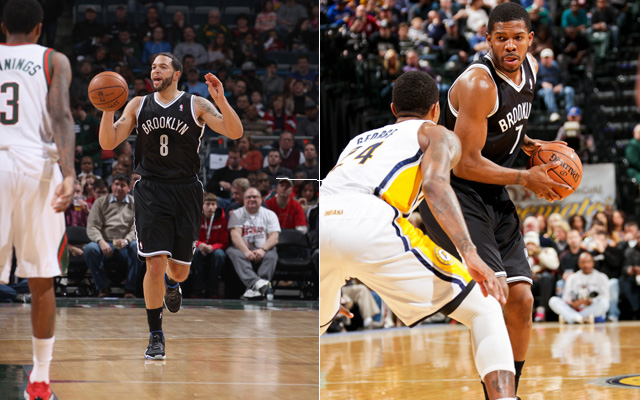 Nets' Deron Williams (left) is hurting, and Joe Johnson is out Friday.
(Getty Images)
Nets G Joe Johnson will miss Friday's game vs. the Rockets with plantar fasciitis, GM Billy King said on local radio on Friday. King said the injury isn't serious and that he would play if it were a playoff game. That's really weird because plantar fasciitis, while not a fracture or tear, is still incredibly painful and requires rest. Depending on when he developed it, it's odd that King said it's not a big deal. 
Meanwhile, PG Deron Williams ... has some injury issues. 
Deron Williams has received at least eight injections to his ankles in the last four months, hoping the pain from the inflammation would subside enough to get him through a frustrating season.

The point guard revealed Friday that the cortisone shots Thursday were the third of such treatments since training camp started. He also plans to have another round of injections before the playoffs.

Still, Williams understands that the only real cure is rest -- even though his competitive side won't allow it to last very long. He took off more than a week after getting PRP injections in his ankles before the All-Star break.

"I don't want to (take a month off)," he said. "I've gotten frustrated some nights where I can't do anything, can't go anywhere. It's frustrating and that's how you want to think, but I can't do that."
via At least eight injections later, Deron Williams doesn't want to take any time off | New York Daily News.
So that's not good. 
Williams has been snakebit this season. He just hasn't been the same, and it's clear the ankle is a big reason why. It's a big season for the Nets; they want to make some noise in the playoffs to have a strong first season in Brooklyn. 
But Williams is struggling so badly, physically, you wonder if the long-term cost is damaging. We'll see how the Nets and Williams deal with this going forward. 
Is this rock bottom for the Cavaliers because it sure feels like it is

Wade, as he's done so many times in his career, threw it up to LeBron for the thunderous f...

The Warriors coach added there should be no shame in being picked last since everyone's an...
We've got all the scores, highlights and news from all of Saturday's games

The two teams have reportedly not had any substantial discussions to this point

Oladipo may be getting most of the shine, but this second-year big man has been phenomenal...