Joe Johnson says Nets are best team in New York; King says backcourt better than Lakers'
Joe Johnson says the Nets are the best team in New York and Nets GM Billy King says his backcourt is better than the Lakers have in Kobe Bryant and Steve Nash.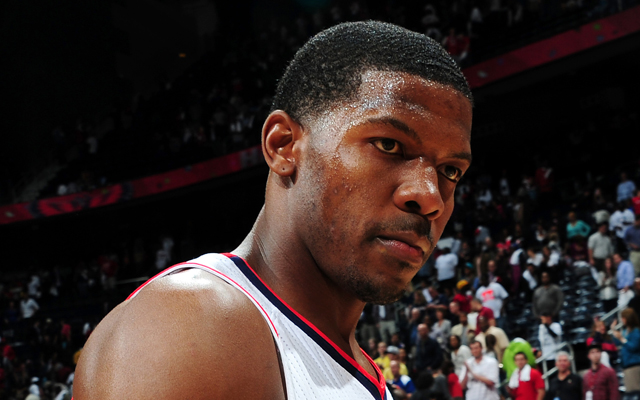 Joe Johnson says the Nets now are better than the Knicks.
(Getty Images)
The Brooklyn Nets are not short on confidence about this new superteam of theirs. After adding Joe Johnson via trade and then re-signing both Gerald Wallace and Brook Lopez, the Nets have a stocked roster heading into their first season in Brooklyn. And they would like to tell you about it. 
The New York Daily News was at a rally event in Brooklyn, where the team was introducing Johnson and Johnson, and confirmed the former Hawks star feels the Nets are the better of the two teams in New York now. 
Before the pep rally — which was relatively tame compared to the Miami Heat trio's coming-out party two years ago, although the Brooklyn version did include streamers and a party van — Johnson also declared victory when asked which team is best in New York.

"Definitely Nets," Johnson said. "Brooklyn Nets."

It was [Brooklyn borough president Marty] Markowitz, however, who carried the banner for Brooklyn, even dissing the Knicks' newly renovated arena across the bridge.

"Now that the Barclays Center is in town, the national basketball spotlight is focused on Brooklyn's big stage and Madison Square Garden just doesn't have the same sparkle anymore," said Markowitz, comparing it to the old rivalry between the Brooklyn Dodgers and Yankees. "By the way, for any Brooklynites still rooting for the Manhattan Knicks: as of November and on, I'm giving you fair warning: it's treason to support the outer borough's team over our Brooklyn Nets.

"Besides, when it comes down to it, we all know the Brooklyn Nets will shut down the Manhattan Knicks when they play for the first time."
via Joe Johnson says Nets 'definitely' the best team in New  York as Brooklyn declares all-out hoops war on Manhattan  - NY Daily News.
Geez, Markowitz. Slow your roll. 
This is going to be an absolutely fantastic rivalry now that the Nets are in Brooklyn and both teams are good. That's six current or former All-Stars on the two teams in heavy rotation, with exciting younger players and a genuinely good set of matchups. 
As for who's better? You have to give the edge to Brooklyn to start, just because the Knicks' offense has been such a mess under Mike Woodson. The Nets feature probably the best overall player in Deron Williams, and with Amar'e Stoudemire's injuries, he loses out to No.2 Joe Johnson. Tyson Chandler is a huge advantage for the Knicks, but... 
After all this, though, we have to play the games. 
The more bold claim, though, came from GM Billy King who says the DWill-JJ backcourt is better than even the Lakers' new pairing of Steve Nash and Kobe Bryant. 
So forget about Jeremy Lin and Iman Shumpert. King said his duo is even better than Kobe Bryant and Steve Nash.

"They're good," King said. "I like them. But I think ours is better. I just think the physicality, both these guys are very physical, they can post up. With Nash and Kobe, I'm not taking anything away from them, I just think ours is better.

"You got Joe Johnson that can defend and score at his position, you have Deron who can do the same," King said. "There are a lot of good backcourts but I don't think think there are any backcourts that can get you 18 or 20 (points) every night, and they can defend their positions."
via Joe Johnson says Nets 'definitely' the best team in New  York as Brooklyn declares all-out hoops war on Manhattan  - NY Daily News.
The defense is better, that's certain. But Nash was still an elite point guard in both passing and shooting last season, while Williams struggled at times for the Nets. Johnson also slipped down the ladder, more so than Bryant did. It's actually a quite-even dynamic, which is a good thing for the Nets, but wow, are they getting that cart ahead of the horse. 
Can't wait to see this actually play out on the court. Say what you want about superteams. They're exciting. 
The NBA TV analyst and ex-Raptors coach doesn't look back in anger

Jackson is reportedly unable to make the trip from Montana

The Rockets are on fire, and my money is on Durant to join LeBron and Harden in the MVP ra...
Then-Lakers owner Jerry Buss eventually shot down the idea

Bryant will have both No. 8 and No. 24 raised to the Staples Center rafters on Monday

The Lakers will be retiring Kobe Bryant's No. 8 and No. 24 jerseys at halftime