Joe Lacob discusses the reasons for Mark Jackson's firing
Warriors owner drops hint as to why 51-win coach was let go.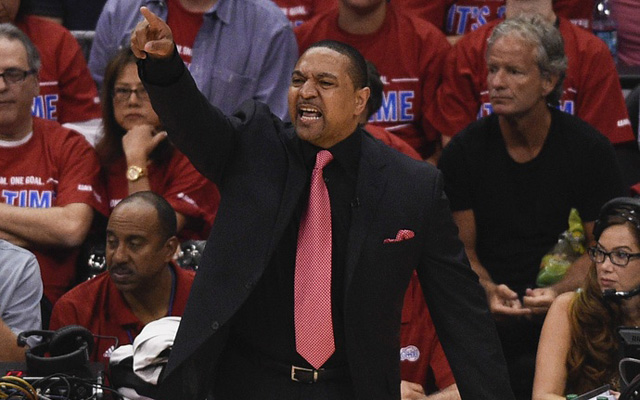 Mark Jackson's firing by the Golden State Warriors has traditional sports personnel and media in a hubbub. The idea of canning a coach after he won 51 games and made the playoffs two years in a row seems asinine. The narrative is being spun of an owner that was maniacal, wanting more, more, more from the roster he paid for, and because he didn't like how Jackson handled it and Jackson didn't win a title, the owner (Joe Lacob) fired him. 
But reading between the lines of what has been written in the past 24 hours about Jackson and his situation with ownership, a pattern is becoming clear, and it's a bit of a disturbing one. In a Q&A with the San Jose Mercury News, Lacob reveals that it actually wasn't about on court performance at all -- though as Zach Harper notes that wasn't good enough to save him from the other issues. 
So what was the problem? 
Q: Was he having issues with staffers and did that cause you to question his tenure?

LACOB: Look, I don't think we should get into the great details of what did happen, other than to say that this is a decision that was based on what was good for the organization as a whole.

And when I say the organization as a whole I don't mean just the team and just the 15 players that are involved and the coaching staff. I mean everybody. There's 200 employees here.

So when we look at the organization going forward and the kind of coach we want and … not just the performance but everything else, all these factors matter. We took all that account.

...

Q: Was 51-31 unsatisfactory?

LACOB: I would not say it's unsatisfactory. I would say that it did not meet our–probably–our goals.

Q: Was that due to coaching?

LACOB: No, I don't know that I can honestly say that it was from coaching, or it was from injuries … There's a lot of factors that go into this.

It's hard to say. I know there are some people that think we should've been, oh, five or six or seven games better because we lost some easy games at home. I did comment to you in fact in February that the home losses were disturbing.

But I didn't blame anybody at the time and I still don't blame necessarily coaches or players or Bob Myers for not getting another addition at the trade deadline. It isn't anybody's fault necessarily.

It's just, that's what it is. Could we maybe have been a little better? Yeah.

...

Q: Do you think Jackson had a bunker mentality and was that tough to deal with?

LACOB: I think Mark in his next job probably needs to do a better job managing up and sideways, is one way to put it. Managing down, managing to his players, obviously a pretty good job. Most of his players seemed to really like playing for him. They played hard for him. Which is really important in the NBA.

I think if you asked him, I think he would realize–maybe give him some time to answer this–that he probably could do a little better job of managing up and sideways, is the way to put it.

But look, I'm not here to bash or be critical of him.

We could do some things better, too, right?
via Joe Lacob on the Mark Jackson firing, Steph Curry's emotions, ownership pressure and demands, and more – Talking Points.
There's a lot there in between the margins. Essentially Lacob is asserting the problems were beyond Jackson's issues with ownership, and extend to his conduct with employees of the team beyond the players. Jackson is a former player who was put immediately into the role of coach. He did develop a bunker mentality, a close relationship with the team. But a coach has a wider range of responsibilities and interactions with team staff that extend beyond the locker room. 
It's not hard to imagine Jackson's player mentality, which often times (but definitely not always) can seem very tunnel-vision-laden in other people, rubbing personnel the wrong way. There have been no reports of altercations between Jackson and other members of staff beyond friction between Jackson and front-office advisor Jerry West, but it's clear that someone, somewhere was uncomfortable. 
ESPN reports the hiring of Lindsey Hunter may have contributed to the situation: 
The September introduction of Hunter, a friend of Jackson's, was regarded as a destabilizing force, according to multiple sources. This marks the third consecutive time his hiring has coincided with a head coach getting fired within a year. Hunter had a reputation as an undermining individual from his days in Chicago and Phoenix. While he did not sabotage Jackson specifically, he made life difficult for others on staff.

It's quite possible Jackson couldn't have survived even with a cohesive coaching staff.

It all started off on the wrong foot, with Jackson deciding to coach the Warriors while living in Los Angeles and presiding over his church as pastor. Management found this arrangement less than ideal, but Jackson flat out refused to reconsider.
via Mark Jackson's way and the highway - TrueHoop Blog - ESPN.
The whole thing paints a picture of someone who's hard to get along with ... unless you're a player. Which you can argue that's all that matters. Front office, office personnel, other assistants, whoever. Jackson had the trust of his players, the love of his players, and won 50 games. Whoever they hire will have to battle a lot of resentment from the players, and from the media who adore Jackson -- and the team will have to win. 
In business, how you treat people matters. That was Lacob's essential position. But in the NBA, all that usually matters is how you treat the players and how you win. That's why this move is such a departure from the norm. 
The old teammates worked their magic one more time

Here's how to watch Team Stephen vs. Team LeBron in the 2018 NBA All-Star Game

Jimmy Butler is resting during the All-Star Game and that's kind of weird
The 2018 NBA All-Star Game introductions were just too much for Twitter to handle

Cousins is out for the season with a torn Achilles tendon

Twitter roasted Fergie's rendition of the national anthem, and even Draymond couldn't contain...