Joel Embiid says he's 'definitely considering' returning to Kansas
Jayhawks center says he may not be ready to move on to the NBA.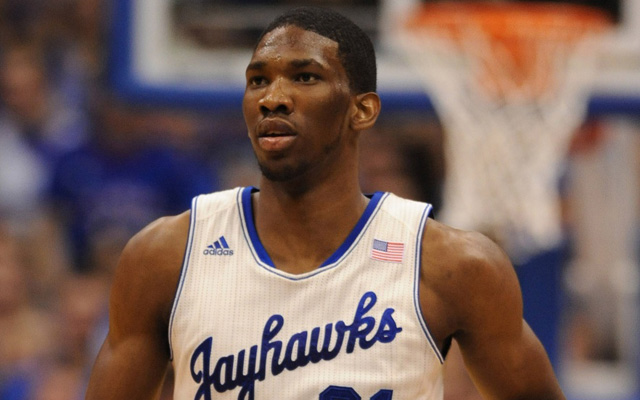 Kansas phenom center Joel Embiid told ESPN on Tuesday after the Jayhawks' win over Baylor that there's a very good chance he doesn't declare for the NBA Draft after this season: 
Kansas 7-footer Joel Embiid told ESPN that he is far from a lock to leave college after this season, and is "strongly considering" returning for his sophomore campaign.

The Cameroon native said prior to Tuesday's win at Baylor that he didn't feel as though he was ready to make the jump to the NBA, but added after the game that it will depend largely on his development over the remainder of the season.

Embiid struggled in the 69-52 victory over the Bears, going 1-for-6 from the field and finishing with five points and seven rebounds.

He told ESPN.com that he has been shocked by his impact thus far this season, even saying that even thought about redshirting prior to the year.

"I'm not even thinking about it right now," Embiid said. "I'll make a decision after the season, but I'm definitely considering coming back to school."
via NCAAM Joel Embiid considers staying - ESPN.
The big man is considered the consensus No. 1 overall prospect, having leapfrogged both Andrew Wiggins and Jabari Parker thanks to his astonishing touch around the rim and raw untapped athletic potential. Embiid features a grace and set of natural instincts not often found among big men prospects at his age. 
Admitting he still has significant areas to improve is the first step on the way to passing up millions. Team success at the college level is the next step. Players like to continue when things go well. So while how he performs in the second half of the season for Kansas and in the tournament will also determine how ready it feels, it will also impact how he feels about the idea of leaving Lawrence behind. 
But I would remind you that this isn't the first time a prospect has suggested he would stay in February. The decision to turn down the NBA is always easier when it's not right in front of you. 
Knicks forward had his truck stolen out of his driveway

The Celtics will send No. 34 to the rafters in Boston when they take on his old rival

It's never too early to look at June's NBA Draft
Cousins uses some colorful language to get his point across

The awards are voted on by peers in the NBA and adds to Russ' league MVP award he won this...

Minnesota is facing even bigger expectations headed into next season, and they'll be difficult...