Joel Embiid was worried he might drop to the second round of draft
The Philadelphia 76ers took Joel Embiid with the third pick in the 2014 NBA Draft, but he was worried he might drop to the second round.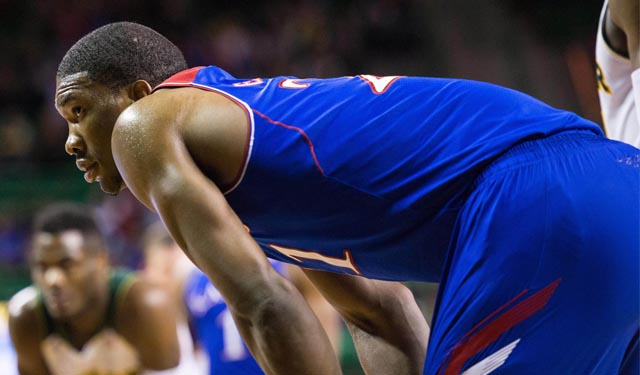 More Offseason Analysis: Coaching changes, news | Free Agency | Draft
The draft process was a roller coaster for Kansas center Joel Embiid. He was slated as the likely No. 1 pick in the draft for weeks, despite a back injury that ended his freshman season. Then right before the draft, Embiid broke his foot and needed surgery that could put him out anywhere from four to eight months. That caused confusion in where he would end up. He was projected to fall to No. 7 or possibly later depending on the risk teams were willing to incur. 
In an interview with Dan Patrick, Embiid said he didn't know where he would be selected until the Philadelphia 76ers took him with the third pick. After the surgery, Embiid thought he may drop to being a top-15 selection or even into the second round. From CBS Philadelphia: 
Before his surgery to repair a stress fracture in his navicular bone of his right-foot, Joel Embiid was projected by most to go number one overall in the 2014 NBA draft, and projected by nearly all to be at least selected in the top-three. After his surgery, however, no one knew.

The Sixers, with the third overall pick, took a chance on the athletic seven-footer.

"With the latest injury, I thought I was going to drop to like–I don't know–maybe top-15? Maybe second-round [laughs]? I mean, people, you know how people are like," Embiid said on the Dan Patrick show on Friday. "The way they are just talking, everyone on social media, so I bought into that. I was also listening to my agent who told me good things, but I mean I thought was going to drop to the second-round. I was kind of surprised they took me at [number] three."
The Sixers took Nerlens Noel with the sixth pick in the 2013 draft, knowing he'd be recovering from an ACL injury and could sit out the entire season. It looks like they have no problem doing the same with Embiid as they are looking into the future and not at a quick fix for next season. If healthy, Embiid could be the best player in this draft and one of the best big men in the league. However, he has had stress fractures in his back and foot in just a few months. 
You can watch the entire interview with Dan Patrick here:
Our advanced computer model simulated Saturday's Thunder-Cavs game 10,000 times

The Jazz are reportedly looking into trading Rodney Hood before the Feb. 8 NBA Trade Deadl...

The Cavaliers are ready to reset everything if they have to. Their interest in Lou Williams...
It sounds like the Cavaliers are going to be active before the NBA trade deadline on Feb....

We've got all the scores, highlights and news for Friday night

George Hill, who is unhappy in Sacramento, could be a solution to Cleveland's backcourt si...