John Calipari says he wouldn't have gone to Cavs even with LeBron James
Kentucky Wildcats head coach John Calipari said that he wasn't as close as everyone thought to leaving for the NBA.
• 2 min read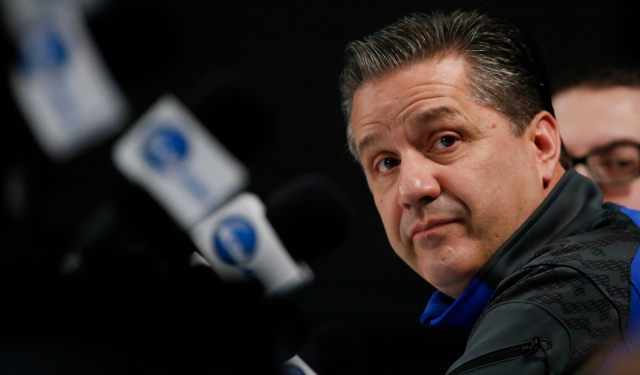 Offseason: Free Agency | Latest from Ken Berger | Rumors
University of Kentucky head coach John Calipari told the Courier-Journal's Kyle Tucker that he was never close to leaving the Wildcats, and that he still wouldn't have gone to Cleveland even if LeBron James had made his decision earlier.
Despite reports that he was in serious talks with Cleveland – and ultimately turned down the Cavs earlier this summer – Calipari was "not as (close) as everybody thought" to leaving for the NBA. But James, who Calipari has said he'd love to coach, had not made his decision at that point.

Would that have made a difference?

"No. No. I don't think so. Because he and I have a great relationship, but it's not based on me coaching him," Calipari said. "We've got a relationship. I've known him for years and years. We've always been friends. But it was never based on that. I've said that. I've had a chance to coach Derrick Rose, John Wall and DeMarcus (Cousins), Anthony Davis and Michael (Kidd-Gilchrist). And I'm leaving names off, but I've coached some of the best players in basketball, and it is a thrill. There's nothing better than that. Especially when those guys are all good guys.

"Well, LeBron is also that kind of player and that kind of person. But again, leaving guys who made decisions based on what's right for their career was something I couldn't have gotten by anyway."
Calipari told CBSSports.com's Jon Rothstein three weeks ago that his decision to stay in Lexington had to do with the fact that Alex Poythress, Willie Cauley-Stein, Andrew Harrison and Aaron Harrison all decided not to enter the draft. He said he couldn't leave them after committing to get them prepared for the NBA.
The Cavaliers reportedly offered Calipari the chance to coach the team and be the final decison-maker in the front office. Yahoo Sports reported that the two sides were in "deep talks." Given that both sides have moved on, it'd make little sense for Calipari to say that James would have changed anything, even if that was the truth. 
The way it worked out might be best for all sides, anyway. Cleveland wound up with David Blatt, one of the most respected coaches in the world. Calipari got a huge, long-term contract with Kentucky and will remain the face of the most high-profile team in college basketball. Going to the Cavaliers with James would have been an incredible opportunity, but staying put was the much less risky move.
Leonard's relationship with Spurs also reportedly strained because of how injury has been...

San Antonio hasn't missed the playoffs in 20 years, but the road is rocky this season

Last year's MVP finalist has missed all but nine games this season
The design for the patch is still being worked on

The explosive forward and upcoming free agent is having a career year

Cuban said on Dr. J's podcast that losing is Dallas' 'best option'