John Calipari to pay phones: Journey down the rabbit hole
Let's find out how we can get from John Calipari to payphone in this week's rabbit hole.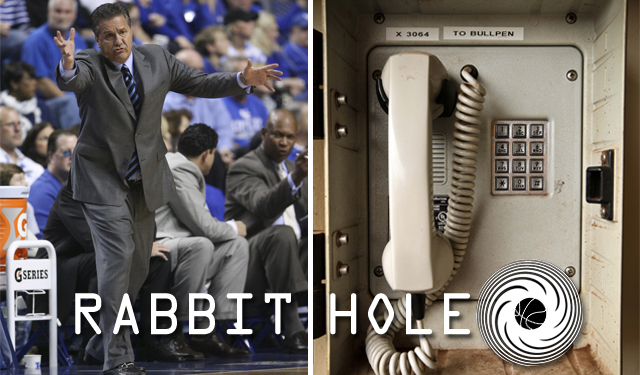 We still have plenty of entertainment going on during the weekends. College basketball has started, college football and the NFL are still in full swing, and you've got NBA games at night. There are still plenty of moments during the remaining hours of your Friday and pregame minutes on Saturday and Sunday to waste though. Need a little help with that?
Let's find out how we can get from John Calipari to payphone in this week's rabbit hole.
First Stop: John Calipari to the Knicks?
As if the New York Knicks couldn't get any more ridiculous with the way they're being run by James Dolan, Ken Berger of CBSSports.com gave us the lowdown on Thursday about a possible plan to bring John Calipari from Kentucky to Madison Square Garden. The Knicks have become a Creative Artists Agency safehaven throughout the organization, so bringing in one of the heaviest hitters of that agency would make sense for keeping that community well connected. If the concern is losing Carmelo Anthony in free agency this coming summer, having the name of Calipari coming to save the day would be a nice bargaining chip to throw into the negotiations.
Here's an excerpt from Berger's story on it:
This is about a process that began unfolding the night the Knicks finally pulled off the massive trade that brought Anthony to New York in February 2011 -- a process that will only kick into overdrive if the Knicks don't find their way out of this.

If they don't, anyone can see what's coming: Mike Woodson gets fired, company man Herb Williams becomes the interim coach and the drumbeat begins in the background for John Calipari to make his long-awaited return to the NBA.

You don't have to be an NBA executive to see that coming, but I asked some, and they see it, too. The payroll is maxed out through next season, the tools for tax teams to acquire players in sign-and-trades next summer are gone and it's not like the Knicks can sell anyone on a fallback plan of reloading with a lottery pick in the coveted 2014 draft. The Knicks' pick goes to Denver (from the Anthony trade) or to Orlando (if it's worse than the Nuggets' pick).
The interesting thought is would that be enough to convince Melo the Knicks are going to be just fine and the right place for him to spend the rest of his prime? John Calipari didn't exactly reinvent the game of basketball during his two-plus seasons coaching in the NBA between stops at UMass and Memphis. Calipari is a huge name in the world of basketball and one of the top recruiters we've seen in college basketball history.
But does that translate to the NBA free agency realm? Has he coached enough stars in college to have their ear when they're in the NBA? Would he still be a mentor figure to them or would he simply be a guy they used to need to ascend to the top of the ranks of their class? Looking back at his years with the New Jersey Nets, it's weird to think about him being a sure-fire hiring decision in today's NBA. 
What were those New Jersey Nets teams like under Cal?
The only time Calipari coached in the NBA, he had one bad year, one successful year, and a short-lived third season that sent him right back to college. His Nets teams were kind of fascinating. It was back when Tim Thomas was still a big deal, so he was able to move Thomas right away and brought in Keith Van Horn instead. Led by Sam Cassell, Keith Van Horn, and Kerry Kittles, the Nets made the playoffs in Calipari's second season as coach. 
That second season under Cal was a much better experience than the first season. It's not so much that they improved their record by 17 wins but it might have to do with Calipari calling Nets beat reporter Dan Garcia a "[expletive] Mexican idiot." From the New York Times' archives:
Nets Coach John Calipari read a statement tonight apologizing to Dan Garcia, a reporter for The Star-Ledger of Newark, for profanely yelling at Garcia last week and calling him a ''Mexican idiot.''

''I would like to apologize to Dan Garcia for my ill-advised attempt at humor and insensitivity for the remark,'' Calipari said before the Nets lost to the Lakers, 109-84, tonight at the Meadowlands. ''In retrospect, I can understand how the remark could have been misinterpreted. I have apologized to him personally and in writing. In no way was my intent to be derogatory in a racial context, and I am sorry for any pain my remarks have caused.''
I love the notion that there was a joke that was misinterpreted there and he understands how that would have been misconstrued. I don't think that's necessarily a valid excuse for every situation in which you possibly offend someone by calling out their race, especially when it's dealing with a reporter covering the type of job you're doing. Sadly, that's probably the most noteworthy moment from Cal's coaching career. 
The third season, the Nets traded for Stephon Marbury in-season and Calipari was fired a couple games later, after 20 games that season overall. 
Sam Cassell highlights, anybody?
Once I remembered that he coached Sam Cassell on those Nets teams, I immediately started those don't really exist on YouTube at the moment but that doesn't stop us from checking out one of the more underrated point guards of the last 20 years and one of the greatest midrange artists in basketball history. 
This Sam Cassell mix shows us pretty much everything we need to know about his career and it's set to "A Friend" by KRS-One.
Cassell got away with quite a few chicken wing pushes when he was playing but he was also a very physical guard that was able to create space by being a crafty veteran. He never seemed rattled by the moment and knew exactly how to get to wherever he needed to go. Even when he was a rookie with the Rockets, he was willing to take the biggest shots and handle the moments with the most pressure.
If you want to learn his tricks of the midrange game and apply it to your pickup basketball livelihood, this is the video for you. 
His sense of body positioning is really exquisite when you study how he made his living in the NBA. He was so physical and confident that he knew if he could create the necessary space to get his shot off, he'd be in a great position to star in the big moment. When he began his assistant coaching career, he took all of those tricks he learned in the NBA and applied them to practice against the players he was teaching.
Check out this practice video of him going against Nick Young when he was with the Wizards.
Sam talked on the court as much as any player in the league too. One of the best moments of that was back in the 2006 playoffs when Tim Thomas went to the line for the Phoenix Suns and his former teammate, Sam Cassell immediately tried to talk him into some misses. 
It was a funny moment for those two guys, but immediately it looked like the referees were unsure about the playfulness of what had just transpired.
Cassell played for eight teams in his 15 NBA seasons and saw some pretty cool success in most places he played. He won back-to-back titles with the Rockets to start his career, helped take the Wolves to the conference finals, got the lowly Clippers to the playoffs, and even capped off his career with one more title when he won with the Celtics. 
The thing we'll all remember him for the most will always be his celebration, even if it is a fine in today's NBA.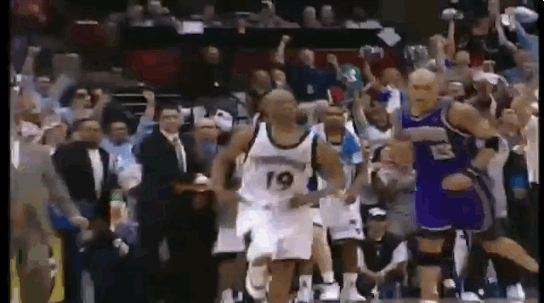 He's just carrying giant bags of dog food in this motion. I don't get the big deal, NBA.
Marcus Camby was Cal's first star in the college ranks
Calipari really made his name when he was coaching UMass for two reasons: 1) he was and is a really good coach and 2) he had one of the top players in the country in Marcus Camby. Camby was just an absurd all-around player that dominated college during his time there. Camby was a great fit for building Calipari's successful program and he was nice enough to never put him through what he put Jeff Van Gundy through on the Knicks.
What would happen if an incident like this occurred today? A player goes to sucker punch another player and ends up knocking his coach down in the process. Would the internet just light itself on fire and start running around oil fields? The amount of coverage dedicated to this thing would end up being even bigger than the Malice at the Palace.
After the game in which Van Gundy went down, he had a pretty great quote about the incident:
"He got the shot in that every one of our players would like to do to me. He just got a free one."
Aside from that, Camby had a relatively disappointing NBA career because of the injuries that kept him from being great but he still managed to stick around as an important player for a long time. He outlasted a lot of his contemporaries and even won a Defensive Player of the Year award in his time. He shot-blocking and timing were hard to match for many years in the league.
Camby was one of the headliners of that 1996 Draft that had many fan favorites that are still loved to this day.
My favorite star from the 96 draft? You guessed it: Antoine Walker
Give me the Shimmy! Antoine Walker was probably a much better player than he's given credit for being but his style of play and shot-selection were definitely not something any fan could easily get behind. Through the first seven years of his career, Toine had averages of 20.8 points, 8.7 rebounds, and 4.2 assists. The shooting percentages weren't great but he still found a way to contribute with a well-rounded game.
Not to mention he had the Shimmy celebration that perfectly melded into this mix of his highlights with Old Dirty Bastard's "Shimmy Shimmy Ya" playing (WARNING: NSFW language at a couple of points in the song but not many):
While searching for an Antoine Walker commercial for NBA Live that I vividly remember because they had his video game counterpart "Cyber 'Toine" featured, I came across this classic adidas commercial for Employee No. 8:
I have a couple of thoughts here. I'm not sure that the referees would be considered the bosses in this case. I still think the coach should probably be considered the boss but if that's how Walker felt then it would make his playing style make all the more sense. Secondly, Tyus Edney being in this commercial is awesome and hilarious to me.
Also, was he supposed to be scoring against Tim Thomas in this commercial? Thomas wore No. 1 for the Philadelphia 76ers. Were shots being fired? 
Walker was one of the lucky guys that got to help Michael Jordan train to come back to the NBA when he was moving away from his second retirement and trying to join the Washington Wizards. In this excellent conversation with Bill Simmons, he talked about that experience of working out with Jordan.
I still want to see this old NBA Live commercial though just to prove to myself I'm not making up stories about the existence of pixelated Cyber 'Toine. As I searched for it on YouTube, I came across Kevin Hart telling a gambling story involving Walker and Jordan. Naturally, I had to click on it.
(WARNING: Again, NSFW language at a couple of spots in this conversation)
I love the random Damon Wayans mention! Didn't he used to do those really awkward 1-800-Collect commercials?
Damon Wayans commercials, anyone?
Damon Wayans had a pretty stellar career. He was a huge part of In Living Color, which was a big deal back in the early 90's. This wildly successful show helped launch a pretty decent movie career for Wayans. He was involved in his family's late 80's comedy I'm Gonna Git You Sucka before landing big roles in Mo' Money, The Last Boy Scout, Celtic Pride, and The Great White Hype. Since then, he's been living off of residuals, I'm sure, and the glory of being a part of these 1-800-Collect commercials that never actually made sense.
The cool thing about those commercials was they always had a totally natural conversation happening as they sold you on this service. A few guys out bowling and one of them steps away? Someone must be making a collect call somewhere! It's much easier than paying a quarter. What if he was just getting those addictive, yet terrible bowling alley nachos? 
Goodbye payphones
Payphones seemed to vanish overnight to this writer's eyes. Their biggest claim to fame right now are viewings of Die Hard with a Vengeance on the movie channels and that Maroon 5 song that is probably 20 years too late. He's singing about being at a payphone, which doesn't seem like the best way to grab the attention of this generation. Instead of enjoying the song, aren't they busy pushing pause and asking their parents what a payphone is? Or do they just assume it's about one of those pay-as-you-go Boost mobile phones?
Regardless, payphones are no longer a thing, which caused me to look up the history of payphones. I found out a couple of fascinating things (at least fascinating to someone who had no prior knowledge to the history of payphones). First, they've been around since 1889 and used to collect money after the conversation was over:
The first phone booth was designed by William Gray in 1889. It was implanted in a Connecticut bank. The difference between Gray's model and its successors is that callers could wait to pay until after the completion of the call. In 1898, Western Electric changed this system and implemented the prepay system still used today. By 1902, pay telephones had reached such popularity that there were 81,000 installed in the United States. In 1905, the first outdoor model was installed in Cincinnati. It had a wooden structure. In fact, the glass booths weren't implemented until the 1950s. However, in recent years, the number of pay phones, especially phone booths is rapidly declining. 
Secondly, converting payphones into moneymakers for you is how rich people get richer, it seems:
Despite their imminent extinction, telephone booths have proven useful for other purposes. The city of Shanghai, China has converted 500 former telephone booths into WiFi hotspots. On one hand, this is a positive change because the booth is being used. On the other hand it is somewhat ironic because it new purpose is powering a successor technology. Phone booths are also still useful for advertisers. Just because people no longer enter the booth to make calls, they do pass by. In fact, New York City earns three times as much using its phone booths as ad space than they do using them for their phone services.
For whatever reason, I decided to look for payphone videos on YouTube. I came across this Spanish Subway sandwiches video that had a payphone hack picture-in-picture video laid over the initial commercial. I can only assume this is some kind of conspiracy that is just way over my head.
If you do come across a payphone, at least you know how to prank people with it now.
Technology!
We've got all the scores, highlights and news for Friday night

George Hill, who is unhappy in Sacramento, could be a solution to Cleveland's backcourt si...

Shaquille O'Neal and Sir Charles cruise to an easy victory over some hot peppers
If Charlotte indeed moves its star guard, there's going to be more people impacted than just...

Trading Kemba Walker (and dumping salary in the process) may be harder than expected for C...

Our advanced computer model simulated Friday's Jazz-Knicks game 10,000 times