John Wall and Bradley Beal finally bring Wizards' youth movement
John Wall and Bradley Beal are finally proving the Washington Wizards know how to execute a youth movement.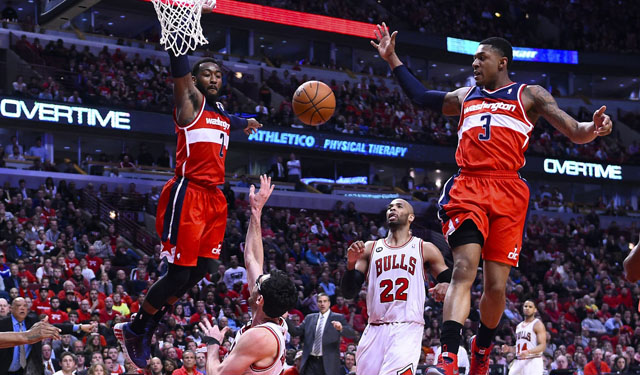 More postseason coverage: Playoff schedule, results | Latest news, notes
The last decade has been rather rough on the Washington Wizards when it comes to getting young players upon which they can build a foundation. The leadership from a talent accumulation and development standpoint hasn't exactly been stellar, and the choices along the way have been confusing and frustrating for the organization and its fans.
They've gone through accumulating projects like Andray Blatche, Oleksiy Pecherov, Nick Young, JaVale McGee, and Jan Vesely. The Wizards accumulated young players because that's what you're supposed to do when you're rebuilding a franchise, but just acquiring young talent isn't enough. It has to fit together, you have to know how to make the talent better, and you have to get guys who are worth the investment. 
The Wizards didn't have that with the young guys mentioned above. Instead of accumulating assets to use, they accumulated a toxic environment that had to be expunged once they realized No. 1 pick John Wall was going to be their franchise player moving forward.
They removed Gilbert Arenas and his constant distractions from the organization. They moved McGee and Young to the Western Conference in exchange for Nene. They amnestied Blatche and eventually moved Rashard Lewis (their prize for trading Arenas) and his non-fully guaranteed deal for Emeka Okafor and Trevor Ariza. Okafor eventually became Marcin Gortat. Mix in grabbing Bradley Beal with the third pick in the 2012 draft and you have your core.
Washington realized finding a couple of young cornerstones and surrounding them with level-headed veterans was the healthiest environment for developing young stars, and they set their young players up for success at a much accelerated rate. After two games into their playoff careers, they have the Wizards up 2-0 and heading back home to truly take control of the series.
It was evident Tuesday night when the Wizards outlasted the Bulls in overtime to take a second straight game from Chicago on their home floor. Wall was negotiating the Bulls defense all night and Beal was setting himself up for a scoring run in the fourth quarter that would help the Wizards tie the game and eventually win it in overtime. 
Giving up on a youth movement for solid veterans can be a tough sell to a fan base. People like potential and the unknown because anything can happen. You can end up with diamonds in the rough, and everybody is always tradable down the road for a better veteran. But the Wizards went away from it and decided teaching the young guys how to win now was the right plan. Also consider that they'll have some good flexibility in the next two offseasons to add another key player to the core.
In the meantime, Wall and Beal are still learning how to lead a franchise on the fly and it's a process that is yielding great results. Wall has proven this season that a max contract extension to him shouldn't have ever been doubted. Beal is proving to be the perfect complement to his young point guard counterpart, and the two of them are quickly becoming the most dynamic backcourt in the NBA. 
The exciting part about this pairing is it's just the tip of the iceberg for them. They have a lot of growth to still endure, but they're good enough now to have their team looking bound for the second round of the playoffs. They're earning valuable experience with meaningful games and a chaos free environment.
We don't know quite how the Wizards have improved in terms of developing talent, but forgoing the process of accumulating in favor of shaping the future of their young career is paying off. 
CBS Sports HQ Daily Newsletter
Get the best highlights and stories - yeah, just the good stuff handpicked by our team to start your day.
Please check the opt-in box to acknowledge that you would like to subscribe.
Thanks for signing up!
Keep an eye on your inbox for the latest sports news.
Sorry!
There was an error processing your subscription.
The 76ers could have decided to trade Markelle Fultz

We ran simulations with all of the NBA teams vying for James to see how much they would im...

All the info on the top names available this offseason
Find out who the top prizes are heading into the wild 2018 NBA offseason

Our NBA experts share their picks for every major award this season

How every NBA team graded out on draft night