John Wall plans on using Team USA snub as motivation
Wizards guard upset he wasn't selected for play in 2014 or 2016.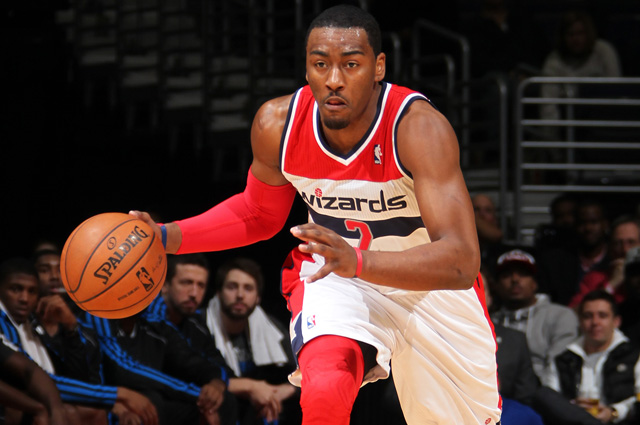 John Wall is not a happy camper about being snubbed for the Team USA selections this summer. 
"I been through it before. The main thing for me is try to be professional. I went out there and played. I did it the right way," Wall said of his experiences with Team USA minicamp. "I just use it as more motivation. It's nothing I could do. It's nothing I can say, and I don't want nobody to babysit me or try to make it work for me. They made their list, they made their decision and that's what they're happy with, and I just have to look past that. It's more motivation because I didn't make McDonald's game. I wasn't national player of the year. I wasn't rookie of the year. So those are just tabs I keep to motivate myself to prove people wrong."
via Wizards: Team USA extends an invite to Beal, but not Wall, who vows to use it as motivation - The Washington Post.
Let's be real for a sec. 
Derrick Rose shouldn't be on the list. Rose is better than Wall, more talented than Wall, has more experience than Wall. But he hasn't shown he can stay on the court following the traumatic knee injury. If anyone's going to be "let's see what happens," it should be Rose. Someone on this team is not going to be able to play and if Rose gets back, great. Chris Paul has two reasons not to be on here: One, outside of a few games in 2012, Paul's game doesn't translate well to international play. He's a small guard who gets bullied in international play as a defender, and he's not much of a spot-up shooter. With LeBron James, Kevin Durant, and Carmelo Anthony, are they really in need of a player like Paul? Wall on the other hand is a hyper-athletic freak. He can cut to the basket and defend. He'd be perfect. 
Deron Williams, you can take column A. (injuries), column B. his conditioning issues in 2012 which Jerry Colangelo laid out, and column C. a diminished ability. Is Williams that much more of a lock to be better at this point than Wall? 
Kyrie Irving isn't anywhere close to Wall at this point. 
But those are all superstars, and Wall's not, so he's on the outside. When one of the guards can't play, Wall will make it. It's just a shame that politics continues to run so much of this process and that guys can't put their egos aside for internationa play. 
Kobe the rookie had no fear facing off against Michael Jordan the legend. Then he gave up a...

Once again the Jazz will be without Rudy Gobert due to injury. How will they fare?

Lorenzen Wright's ex-wife has been charged with his 2010 murder
Hayward, free of his walking boot as of Wednesday, says his mind is open to a return before...

The former Knicks star returns to New York for the first time since joining the Thunder

Former longtime Knick Carmelo Anthony makes his return to New York