John Wall 'weeks away' from practicing
Not only has John Wall not returned for the Washington Wizards, but there continues to be no timetable for his return. How far away is he?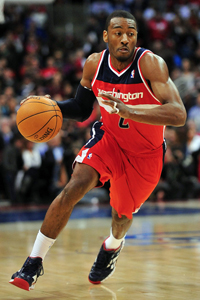 Wall's not back yet.
(Getty Images)
John Wall was supposed to be out until Thanksgiving. A rough start to the year, but he'd return and the Wizards could stabilize. Instead, not only has he not returned but there continues to be no timetable for his return. How far away is he? From CSN Washington: 
"We're going to look at a lot of different things," [coach Randy] Wittman said. "John's bearing doesn't play with that because John's still some weeks from getting on the floor and practicing. So if we were really strapped we'd bring someone in."
(via Wittman: Wall still weeks from practicing | CSN Washington)
So that's not good. 
We're not talking about a foot sprain or plantar fasciitis. We're talking about a stress reaction that has relation to a fracture if things got worse. He hasn't started practicing, only taking "light jumpers" before games. 
That's terrifying if you're a Wizards fan. 
This team was not built, in payroll or talent, to be as God-awful as they have been. And the re-entry of Nene into the roster has not yielded a huge improvement. They have the big win over Miami. That's it. They're still largely unwatchable. 
The Wizards gambled on veteran talent along with Wall being enough for them to compete. Instead they find themselves wondering how Wall is going to save them, and whether there will be enough time at all when he returns. 
LaVar's son couldn't live up to LaVar's hype. But there's more to this story

Carmelo Anthony is hoping for Kristaps Porzingis to see success on his own

Bill Reiter and Reid Forgrave break down the debuts of Lonzo Ball and OKC's new big 3, plus...
The world's No. 1 sports dad fired back at the Clippers guard

Frank Vogel was the Pacers coach when Paul George suffered a similarly severe leg injury

It was one possession on each end in OKC's opener, and they tell you everything you need to...