John Wall will have 'playoffs' scribbled on his shoes this season
Washington Wizards point guard John Wall will scribble "playoffs" onto his shoes every game this season to remind himself of the ultimate goal.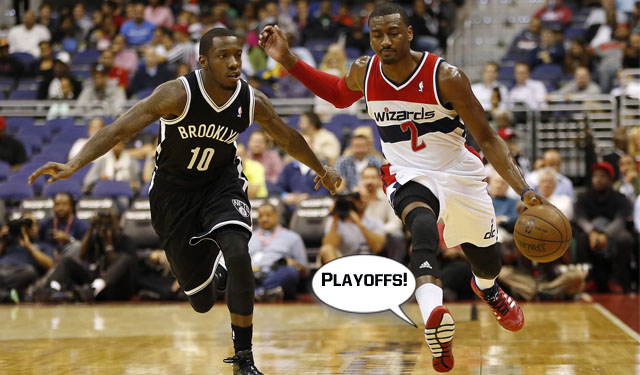 As a No. 1 pick in any NBA Draft, your goal is pretty simple: take your team to the playoffs and make them a contender. That's not an easy task to accomplish either. You're typically joining a pretty abhorrent team and being able to bring a bad team from bad to good can be outside of your control if the front office doesn't put the right help around you. Top pick in the 2010 NBA Draft John Wall of the Washington Wizards knows the expectations that will be on him and his team this year and he won't lose sight of them during the season.
That's because Wall is planning on scribbling "playoffs" onto each pair of game shoes for the entire 82-game schedule in 2013-14 in order to keep a handy reminder of where his team needs to end up. Howard Beck of Bleacher Report talked to John Wall about his motivational tactics this year of keeping rankings and things said about him in order to help drive him toward the goal of making the playoffs. And to remind him of playing well enough to make the playoffs, he'll have it on his feet each night.
When the Washington Wizards open the season Oct. 30 in Detroit, Wall will take the court with the word "playoffs" scribbled on his shoes. He will repeat the exercise every day, through 82 games, lest he or anyone else lose sight of the goal.

"You will see it on all my shoes," Wall said last week. "Every game pair is going to have `playoffs' on it. That's my main determination."

This will be, Wall quickly noted, his fourth NBA season, and it is time to deliver on the promise of being the No. 1 pick of the 2010 draft. He has a new, $80 million contract extension in hand, healthy knees, a sturdy surrounding cast and the full support of the franchise.

"I should be in the playoffs," Wall said.
This really is the time for Wall to deliver, but it won't be an easy task due to a key injury already threatening the outcome of precious games for the Wizards this year. With Emeka Okafor out indefinitely with a herniated disc in his neck, one of the top defenses in the league last season will be without its anchor. If they can maintain that defensive production or close to it from last season, they should be able to focus on making an abysmal defense better and play closer to the level the team held once Wall returned from his knee injury.
The Wizards were 24-25 after Wall returned, which should be a good enough pace to make one of the final two playoff spots in the Eastern Conference this season. With so many teams setting themselves up for the 2014 NBA Draft Lottery, the door is wide-open for John Wall and the Wizards to get into the playoffs and try to make some noise. It will involve them fighting off teams like the Toronto Raptors, Cleveland Cavaliers, Detroit Pistons, and Milwaukee Bucks in order to accomplish this goal. You might even see a scrappy effort from the Boston Celtics.
Regardless of which team they're battling for some postseason experience, Wall will be judged on whether or not his comes through on the expectations of a top pick.
Kevin Mackey says he gave Manute Bol a birthday because they didn't know how old he was

Hosts Bill Reiter and Reid Forgrave are joined by America's Lakers Podcast co-host Aaron L...

Meanwhile, we learned the hard way just how many supporters Lonzo Ball still has out there
The fifth-year forward has continued his growth on both sides of the floor

Former Vegas bookmaker Micah Roberts just locked in his pick for this huge Wednesday night...

Another tough blow for a Clippers team that has lost nine games in a row