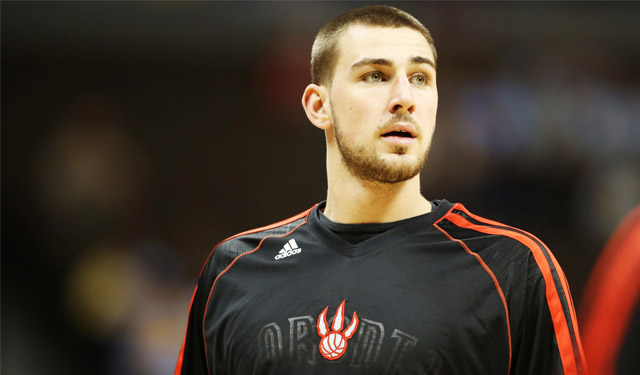 LAS VEGAS -- After averaging 18.8 points and 10.0 rebounds in four games during the 2013 Las Vegas Summer League, Jonas Valanciunas was named Summer League MVP for his dominating play. 
Valanciunas came to the summer league noticeably bigger than we had previously seen him in April when he was on a Toronto Raptors team that couldn't get out of the hole they dug themselves earlier in the season. During his rookie year, Valanciunas showed promise but he also had plenty of moments in which he looked confused by the play on the court and couldn't consistently bang with bigger players inside.
In just a couple of months, he's managed to hit the weight room and put on a considerable amount of muscle while still remaining mobile enough to be a force going toward the basket. At times, he looked like he was trying to tear the rim off the backboard. He dominated the first half of his game against the Miami Heat with several dunks and finished with 23 points and 7 rebounds in just 26 minutes. 
He went on to put up 19 points and 13 rebounds in a win over the San Antonio Spurs, then 18 points and 8 rebounds (including 7 turnovers and 9 fouls) in a win over the Sacramento Kings, and finally he put up 15 points, 12 rebounds, three assists, and two blocked shots in a win over the Denver Nuggets. He managed to make 56.1 percent of his shots and 87.9 percent of his free throw attempts. He also got to the free throw line 33 times in his four games.
Valanciunas sat out the fifth game of the summer for the Raptors and they ended up losing to the Phoenix Suns by five points. 
He's going to face a lot more physicality, strength, and skill during his sophomore season in the NBA, but it looked like he was trying to figure out how to use his new bulk to his advantage. Getting in reps was rewarding in not only his development but also in his trophy case, assuming they give him an actual trophy. 
Valanciunas also made the All Summer League team, along with Jeff Taylor of the Charlotte Bobcats, Kent Bazemore of the Golden State Warriors, John Henson of the Milwaukee Bucks, and Cody Zeller of the Charlotte Bobcats.