Josh Smith doesn't think the Pistons problems are all his fault
Detroit forward maintains he plays the right way, despite taking a ton of threes and making very few of them this season.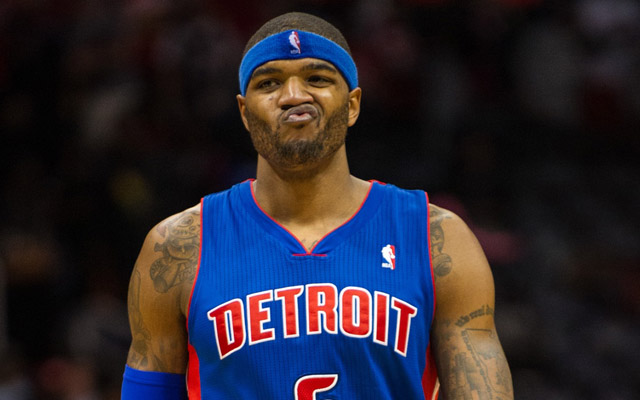 More NBA: Power Rankings | Expert Picks | Seasons in Review | Playoff Picture
The Detroit Pistons are an abject disaster. They had a roster of talented players focused around Brandon Jennings and Josh Smith brought in through free agency adde to Greg Monroe and Andre Drummond. They had veteran leadership in Chauncey Billups. They had shooters, they had a new coach. Everything was supposed to come together, even if they weren't all that efficient. 
Detroit is a train wreck. It's a nightmare. They can't spread the floor, they can't defend the pick and roll, they struggle with basic assignments. And their shot selection is the worst. Most of that comes down to Smith. 
This isn't anything new, Smith has always wanted to shoot threes and mid-range jumpers over working the paint, but it's gotten out of hand this season. 
He's taken 345 shots in the restricted area, according to NBA.com, making 67 percent of them. From mid-range, the lowest efficiency spot on the floor, he's taken 355 shots, making just 34.4 percent. Think about that! 
That's not even factoring his three-point shooting. Smih is tied with Philadelphia's Michael Carter-Williams for the worst 3-point percentage in the league for any player shooting over three 3-point attempts pre game. It just cannot get any worse when it comes to Smith's shooting. 
So does Smith think that he's the problem? Nope. 
"I am an easy target to be able to blame. I'm very outspoken," Smith said. "I'm an emotional player. I can easily be a target night in and out."

With the exception of the lockout-shortened 2011-12 season, Smith is taking the most shots per game of his career, shooting the lowest percentage of his career (41.8) and taking the most 3-point attempts (3.4 per game).

Smith insists the criticism doesn't reach his ears, although he also had to endure it during his time in Atlanta, his hometown, where he spent the first nine years of his NBA career.

"If you played the game, if you know X's and O's, it's not all my fault," Smith said. "I'm not gonna say I'm perfect, by far, but I'm not the guy you can point the finger at. I'm a firm believer in you point one finger at one person, point three back at yourself."
via Mercurial Josh Smith says he's not only culprit in Pistons' awful season | The Detroit News.
OK, so he's right that this isn't all on him. Andre Drummond has struggled to advance his understanding of defensive concepts. Greg Monroe's consistency on both ends of the floor is a problem. Brandon Jennings is Brandon Jennings. Mo Cheeks got fired he struggled so badly. 
There's a lot of blame to go around here. 
But this is not a new problem with Smith. He's had this sort of issue steadily increasing since 2008. He was once the ultimate Swiss Army Knife of the court. He could defend at an elite level, in the post or the perimeter. He got out in transition. He made steals, blocks, assists, rebounds, everything. He was a stat-stuffer of the highest order. Then somewhere along the way he wanted to become an elite scorer, and felt he needed range to do that. 
You can argue that if Smith's not hitting jumpers, it makes it too easy for the defense to scheme for him, to double him if he goes low. And he's not hitting jumpers. He's just taking them. Defenses want him to take those shots, they encourage it. That's a win for them. 
If Smith wants to get his production back to what's worthy of his contract, what the Pistons need him to be, he's going to have to contribute in multiple ways, and start focusing more on his drive and low-post game. If that's harder now that he's older, he's got to learn to adapt. Because this new model of jumpshooter he's trying to be? It isn't working. And Detroit can't survive unless he adjusts. 
Oladipo may be getting most of the shine, but this second-year big man has been phenomenal...

SportsLine's Mike McClure, a DFS pro with more than $1M in winnings, gives optimal lineup...

The Lakers were just 2-14 from the stripe
The Cavs are reportedly looking to acquire numerous players -- even Teen Wolf?

SportsLine simulated Saturday's Rockets-Warriors game 10,000 times

Two underperforming squads will square off on Saturday afternoon