Josh Smith officially signs four-year deal with Detroit
The Pistons have officially signed forward Josh Smith to a multiyear deal.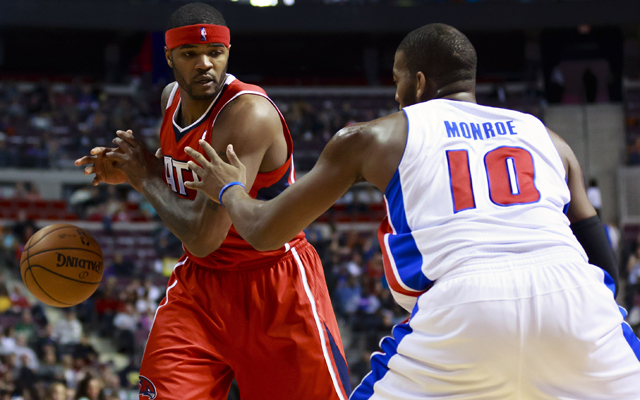 Make it official: Josh Smith is headed to the Motor City. 
The Pistons announced Wednesday that Smith has signed with the team, on a deal reported to be worth $54 million over four years. 
"We're pleased to welcome Josh Smith to the Pistons," general manager Joe Dumars said Wednesday. "He was the No. 1 guy we were after in free agency."
Smith had verbally agreed to sign with the Pistons last week, but players couldn't officially sign until the free agent moratorium was lifted, which happened Wednesday. 
"This team is who I wanted to play for," Smith said at his introductory press conference. "I still think I haven't reached my ceiling."
The question is where Smith fits, but the team has indicated he'll play alongside Greg Monroe and Andre Drummond. 
Smith, 27, led Atlanta with 17.5 points per game last season, averaging 8.4 rebounds, 4.2 assists, 1.8 blocks and 1.2 steals.
Oklahoma City has reportedly offered the MVP a five-year extension worth over $200 million

The big man was a big part of the Warriors' championship run last season

The Cavs jokes were out in full force after Golden State reportedly agreed to sign Antonius...
New York seems to be at the top of Irving's list of preferred destinations

Is it just a normal workout, or is LeBron continuing his recruiting efforts?

Chris Bosh answered on the spot about the LeBron James and Kyrie Irving situation