Josh Smith preparing to play power forward, says SVG wants him to lead
Pistons forward Josh Smith says he's excited to work with Stan Van Gundy.
• 2 min read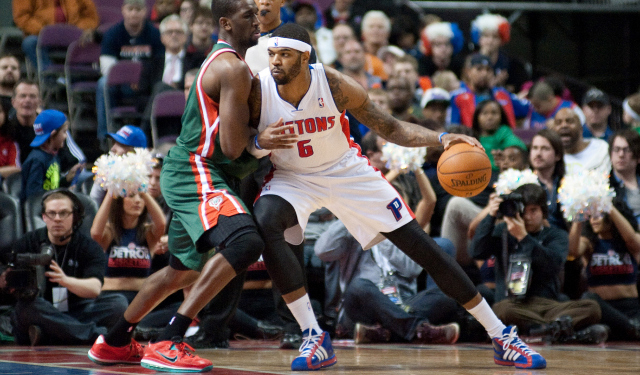 As soon as Stan Van Gundy took over, you knew the Detroit Pistons wouldn't start next season with the supersized starting frontcourt of Josh Smith, Greg Monroe and Andre Drummond. Most thought Van Gundy would shop Smith, given his tendency to take bad shots that don't fit with the new president and head coach's philosophy.
While Monroe is still in restricted-free-agent limbo, Smith told Pistons.com's Keith Langlois that he's added weight to play power forward and Van Gundy wants him to be a leader. Stop laughing.
"I'm ready to play whatever position is asked of me," said Smith, noticeably thicker in the chest and shoulders, in his first day back at the Pistons practice facility on Tuesday. "But I'm going to play a lot of (power forward) and that was my main focus on being able to get more in the weight room and put some more muscle on my body to be able to withstand that physicality in the paint. I played that position so much, so long in the league that I know how big you have to be in order to be able, night in and night out, to withstand that impact and that physical nature inside the paint."

…

"We understand each other," he said of his early interactions with Van Gundy. "I know he knows how focused I am as a player in order to become the leader that he wants me to be. I'm just trying to come in and set the example early and show everybody we have to put in work to get productive outcomes for a good season. We just want our main focus and concern to gel early because there are some new faces on the team now and we want to create that camaraderie early on."
This might be the most offseason story possible. There's the whole #MUSCLEWATCH thing, and there's Smith vowing to be different. This is more than familiar to Atlanta Hawks fans.
It's perfectly fine for Smith to be optimistic, though, and it's great that Van Gundy wants him to get back to his best position on the court. But that doesn't change the fact the Pistons are in for a transition year, and the 28-year-old Smith isn't necessarily someone they want to keep around for long. He signed a four-year, $58 million contract last summer, and teams like Detroit don't need those deals on their payroll.
As cloudy as Monroe's future is right now, Smith's could also change at any time with the right trade offer. Ideally he and Van Gundy are a good combination and he starts the season strong, staying away from long 2-point jumpers and dominating around the rim. If that happens, though, his trade value probably goes up and his name resurfaces in rumors. Anything could happen with this roster.
Rodman's agent says he is urging the ex-NBA star to check into rehab

The players and referees are working to fix a relationship that has recently been deterior...

The locker room heist is going to lead to plenty of fines and maybe some suspensions from the...
Larry Hartstein has his finger on the pulse of Boston basketball and locked in a pick for...

The always consistent Spurs take on the rebuilding Lakers in a national TV contest.

The lack of urgency from the front office has some players doubting their chances of reaching...