Josh Smith says Pistons need to be less selfish, is he right?
A look at Detroit's problems in helping one another out.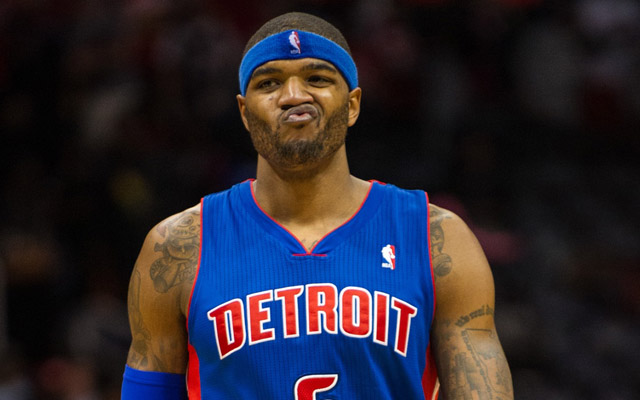 After the Pistons' loss to the Clippers Monday, Josh Smith called out his team for selfishness with the ball. 
"We're still new to each other. It's not gonna happen overnight or in 40 games," Josh Smith said after the Pistons' 112-103 loss to the Los Angeles Clippers Monday at The Palace.

"We have to figure out what we're doing right in the games that we're winning and try as much as possible to mimic those successful moments."

Smith scored 24, and in the games where he's scored 20 points or more, the Pistons are 8-3. Brandon Jennings and Greg Monroe had off-games, and Smith believes the team should be more unselfish, seemingly a simple solution.

"We're very unselfish when we win," Smith said. "Guys are helping each other out on defense, not caring if their man scores, just stopping the initial play. When we lose, it's the total opposite — the ball is sticking and too much individual plays besides playing together."
via Josh Smith suggests Pistons share more, help each other out | The Detroit News.
Well, that's a pretty good sentiment. Let's see what some of the data says. 
Let's start defensively. The most common play types that victimize "seflishness" are cuts, pick and rolls, and spot-ups. Those are scores usually created by a defender not helping when they should (rotating baseline to cut off the backdoor drive, not calling for help when getting caught in screens, and staying home instead of closing out on the spot-up shooter). Here are the ranks for the Pistons defensively in those sets from Synergy Sports: 
Cuts: 22nd (8.4 percent of the time)
Pick and Roll passes to the roll man: 29th (6. percent of the time)
Spot-Ups: 14th (18.5 percent of the time, highest for what opponents attempt against them)
So there's some evidence that Smith's correct, but there's also the fact that they're rotating really well (seemingly at least) to the spot-up shooters. So there's some level of trust being used. 
Offensively is actually where things get interesting. 
The Pistons spend the most time in their offense shooting spot-up shots at 16.8 percent of the time. Next is transition (16.2 percent), then pick and roll with the ball-handler (12.9 percent) and post-up with their big men, Greg Monroe and Andre Drummond (11.2 percent). They're ranked below 20 in all those categories, league-wide, in points per possession.
The Pistons spend just 8.4 percent of the time in Isolation, the most "selfish set." You ready for the kicker? Isolation is the one set they excel at, scoring .83 points per possession going one-on-one, good for 10th best in the league. 
But saying the team needs to go one-on-one more is probably a bad idea. And you can be selfish and still wind up with those other shots, they just wind up as "911" shots (shots at the end of the clock forced to avoid 24-second violations). 
I looked at some numbers from NBA.com's Sport VU data, which tracks individual player actions on the court using an advanced camera system. The results are interesting. (I kept to the high-rotation players here.)

So first off, it's pretty obvious the guards are going to have the ball more than the frontcourt players. I don't have the time nor resources to run comparisons of this differential vs. other teams in the league, so we're going to stick with what's in front of us, but that's really the big question. Do the guards hold the ball more than other teams' guards do? 
Brandon Jennings' 7.4 minutes per game... that sure seems like a lot. In fact, Jennings is fourth in the league in time of possession per game behind John Wall, Mike Conley, and Chris Paul, all of whom are better players than he is. I expected Smith to be way higher on this list, considering his absurd number of threes (3.8 per game!), but in reality, he shoots about as often when he gets the ball as Greg Monroe, and holds the ball only slightly longer. 
It's odd watching the Pistons. I'm constantly taking note of how they move the ball, because they actually move it pretty well. Side pick and rolls, post-up passes to the weak-side corner and an extra rotation. But they're not creating space to find open shots even when they move the ball, and despite all that movement, they consistently find low-percentage shots. What's odd is that it's not the most consistently low-percentage shot, the mid-range jumper. In fact, Detroit takes the fourth lowest number of mid-range shots via NBA.com. They just always seem to move the ball into situations where the shot is contested. 
Much of this seems more like execution, rather than design. Maybe the answer is less about selfishness and more about off-ball effort. The Pistons need to put more effort into creating space when the ball arrives. Oh, and Brandon Jenning could probably stand to use more possessions off-ball. 
Either way, the answers for how to"fix" the 17-24 Pistons seem pretty complicated. There's no easy way out right now. It should be noted that Smith's attempts at accountability and leadership here are nobel and at least from a data perspective, despite his brutal inefficiency this year, he doesn't seem to be the problem in that regard. But maybe that really is the problem. Maybe Smith just needs to shoot better than 41 percent from the field. 
CBS Sports HQ Daily Newsletter
Get the best highlights and stories - yeah, just the good stuff handpicked by our team to start your day.
Please check the opt-in box to acknowledge that you would like to subscribe.
Thanks for signing up!
Keep an eye on your inbox for the latest sports news.
Sorry!
There was an error processing your subscription.
Minnesota had two chances to take the Warriors star during the first round of the 2009 dra...

Morey has long been a proponent of increasing statistical analysis in basketball

Swaggy P famously showed up to a playoff game donning an ambitious pregame outfit, and the...
LeBron who? The Kobe empire continues to expand

Twitter had a field day with McCollum's response to a trolling fan

The decision comes as a reversal of the league's earlier ruling