Josh Smith wants to test free agency; does he deserve the max?
Atlanta Hawks forward Josh Smith says he's looking forward to being courted in free agency for the first time in his career.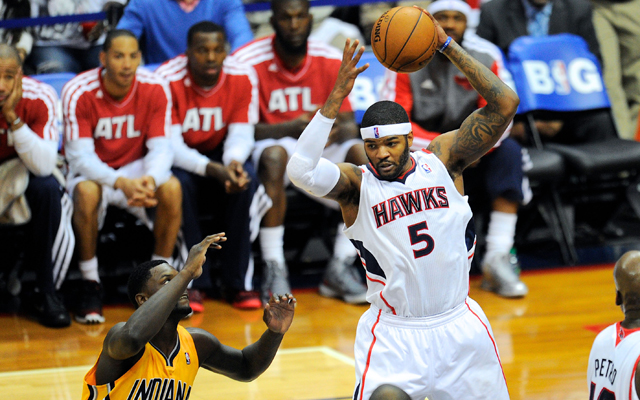 It's been known for a long time that Josh Smith, as an unrestricted free agent this summer, would be looking elsewhere unless something dramatic (i.e. Dwight Howard thinking Atlanta summers are his bag, again) happened. In his last interviews after the Hawks were eliminated Friday night, Smith reflected on his career in Atlanta, and confirmed what we already knew: There will be a bidding war, because he's going to hit the market: 
"As I walked off the court, everything just sort of hit me," the Hawks forward told the Atlanta Journal-Constitution. "Just the uncertainty of what the future holds. Just thinking about all of the relationships I've had here and the people who've crossed my path since I've been here. I just … I just don't know."

Does he want to come back?

"The only thing I know is I want to be able to experience free agency. I want to explore my options and see what's out there. I don't have any certain idea what's going to happen."
Smith's value is going to be fascinating to track. It's been rumored he wants a max contract, which would be a massive investment in a player who hasn't shown great decision making in terms of shot selection over the past four years. 
But consider hist stats: 17.5 points, 8.4 rebounds, 4.2 assists, 1.2 steals, 1.8 blocks, a 17.7 PER in a down year, for a 27-year-old combo-forward with no injury history, high versatility, and phenomenal defensive skills. 
If you don't attach this to it, it sounds pretty great: 
That's it. That's Smith's only problem.
I had this idea a few months ago. If I'm a team with cap space ready to build, I offer Smith a max on one condition. There's a $7,500 charge for every shot taken outside the paint that he doesn't make. 
Smith took 533 jumpers (backcourt heaves at the buzzer not included) this season according to NBA.com. If he replicated that next season, and made none of them, it would cost him nearly $4 million, and $4 million for each season he shot the same. If he made the exact same percentage he did this year, it would cost him close to $2.8 million.
Now, your cap space would still be tied up in Josh Smith. But you're putting his play in his own hands. Now, you can change it if it's a "911 shot" with the clock under 2 seconds. But if you're Smith, and you know you're getting hit if you don't make that shot, don't you abandon it and go to the post? You get the value of the player without the mess.
Note: This is probably not allowable under any circumstances under the CBA and Smith's agent would rather light himself on fire than submit his client to this. But isn't it a great idea?
Either way, get ready to watch teams fight over the right to pay Smith. If they don't, we'll know the lockout's purpose of trying to contain spending habits has really succeeded. 
The former Clipper apparently had some tricks up his sleeve after a chippy game

The Rockets were apparently looking for Austin Rivers and Blake Griffin after a chippy gam...

If they don't meet in the Finals again, let's appreciate every one of the 27 matchups since...
D-Wade picked up the steal and got creative on the fast break as the Cavs headed into half...

Despite the embarrassing hiccup, the youngest Ball had himself a pretty great day on the c...

The players were both ejected in the closing seconds, then continued their discussion off the...