J.R. Smith admits defense isn't his area of expertise as Knicks seek answers
Knicks guard says defense isn't really his thing as Woodson examines options for improvement.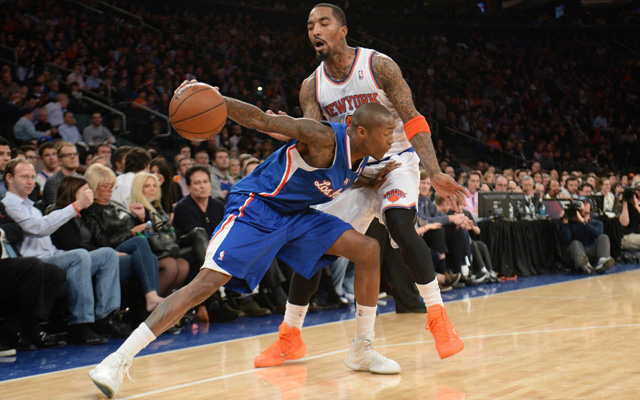 Knicks guard J.R. Smith said Friday that defense isn't really his thing, thus confiring the most obvious thing in the NBA behind "the schedule is too long." Interestingly though, the comment came in a conversation abou a meeting the Knicks held that discussed possible alternatives to their flailing, failing scheme which is the fourth-worst in the league per-possession. From the New York Post:
The Knicks held a three-hour practice Thursday with a lengthy film session to review their horrendous loss to the Sixers, and Smith said the coach may be trying some new stuff. Woodson has hinted at going to a zone as an alternative to his complicated switching system that has often left shooters open.

"Right now we're pretty much open to anything new,'' Smith said. "The old stuff isn't really getting it done. But at the end of the day, it's going to come from the players. I don't think it's coach's fault or the scheme's fault. If you play hard and play smart it's tough to lose games.''

Asked his view of Woodson's defensive system, Smith said: "That's really not my area of expertise. I'm more of a scoring-type player. I'll leave that to those guys. Whatever they want to do, it's OK with me. Just let me know.''
via J.R. Smith: Blame Knicks players, not the coaching or scheme | New York Post.
OK, first off, thanks J.R. It's good to know you're aware that you're not a defensive mastermind. In truth, Smith is far from the team's worst defender. The team is three points per 100 possessions worse defensively with Smith on the court than off, but then, most of the Knicks' defensive numbers are a train wreck. He's not a lock down guy, but he's also not their biggest issue at the moment. Still, it's good that he recognizes who he is. You have to give him credit for that. 
The zone concept is interesting. Switches lead to bad things with this team. Like...
So maybe going to a zone will help. A zone defense like the Mavericks use which keeps the player in range of their man but plays off to freeze ball-handlers would likely not be a bad idea with this roster. 
It's also good of Smith to stick up for his coach and put the problem on the players, even if the schematic issues do seem to be compounding the problems. We'll see if any changes can help the Knicks get back on track after another bottoming out following a post-New-Years surge.
Smith is averaging 11.9 points on 37 percent shooting this season for New York. 
Davis left the Pelicans' game against the Nuggets in the third quarter

Popovich was upset about an out of bounds call

Wall went 3-for-12 from the field, and had just eight points in the Wizards' loss
Noah was reinstated from his 20-game suspension on Monday, but is yet to play for the Knic...

In his first season with the Cavs, Rose has not played since Nov. 7

Keep it right here for all your Friday NBA scores, updates and highlights