J.R. Smith delayed surgery until after securing new contract
Knicks guard purposefully waited until he had his new three-year deal before having surgery to repair a torn patellar tendon.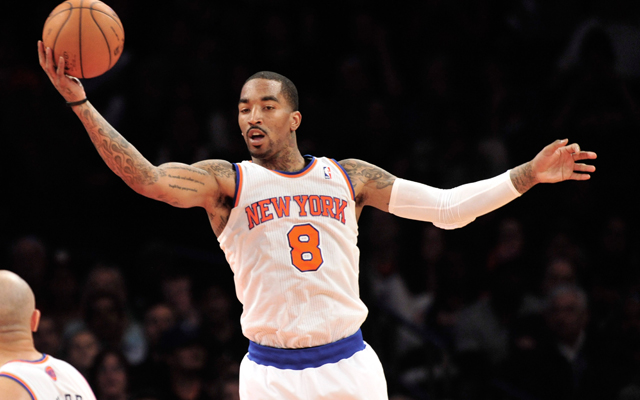 J.R. Smith re-upped with the Knicks this summer on a three-year deal worth $18 million. Shortly thereafter, he had surgery to repair a torn patellar tendon and remove scar tissue from a meniscus tear in his left knee. The timing seemed odd, since Smith was clearly hampered by the injury in the playoffs, where he shot 33 percent from the field. 
How did all that work out, exactly? Smith says he purposefully held off to protect his contract negotiations. 
"For one, I'm a father and I have two young children to look after," Smith said Monday. "It made more sense for my family to get a deal done before [surgery]."

"Without a doubt, the best part about it was we had the support of the team," Smith said. "The team supported us, the [team doctor] supported us all on the decision. At the end of the day it was more of a family decision than anything else."
via Smith delayed surgery for family reasons - Knicks Blog - ESPN New York.
So, hey, he put off surgery a bit to make sure he got the best deal possible. Hard to blame a guy for that. And since the Knicks were on board with the timetable, there's no reason not to. Why risk a complication damaging your livelihood? It says more about the Knicks' faith in Smith than anything. They were willing to risk giving him a three-year deal before he had surgery to repair a tendon. That's love, folks. 
Smith has to be cleared by the team's doctors, and an independent counsel, then serve a five-game suspension for violation of the NBA's anti-drug policy before returning to game play in the regular season. Smith won the Sixth Man of the Year award for the 2012-13 season for his play off the bench for the Knicks. In 80 games, he averaged 18.1 points, 5.3 rebounds, and 2.7 assists while shooting 42.2 percent from the field and 35.6 percent from the 3-point line.
Cleveland could land an All-Star point guard and get Irving to a destination where he likely...

If the Bulls buy him out, Wade could reunite with his former Heat teammate this season

West was a huge piece in building the Warriors into the super team they became
The annual rookie survey is in, but if previous years are any indication it won't mean muc...

Annual NBA rookie survey yielded some surprising results, but none more stunning than this...

Iverson says the King always has a shot to win it, and gives him the upper hand in 2017