J.R. Smith guarantees title, but may miss season opener
Knicks guard says he's 100 percent sure" the Knicks will win a title next season, that the Nets are "not good" and he may not play to start the season.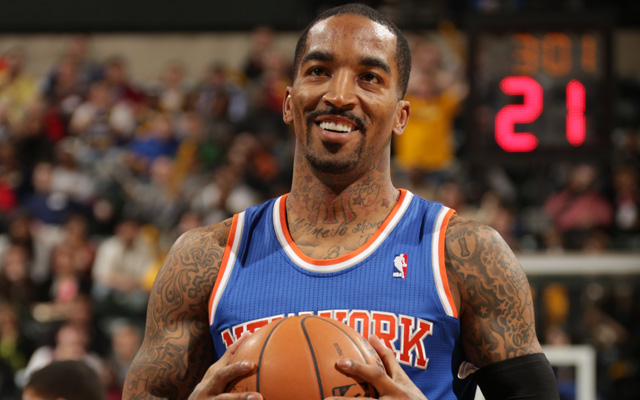 On Saturday we shared with you Knicks guard J.R. Smith's feelings that the Nets' Paul Pierce was a "bitter person" when it came to the Knicks-Nets rivalry, yet another salvo in an escalating war of words between the two franchises that prompted the league last year to tell their owners to knock it off. 
It turns out Mr. Smith had quite a bit extra to say, and being the humble person he is, there's a lot more to raise eyebrows. 
During a question-and-answer session with kid golfers at Chelsea Piers, Smith was asked how sure he was of the Knicks ending their title drought this season.

"I'm 100 percent sure," the swingman said.

Smith was then asked why he joined the Knicks over the Nets when he came back from China in February 2012.

"The Nets weren't good,'' Smith said. "Now they're still not good.''

There has been much hype this offseason lavished on the Nets after their bold trade with the Celtics to acquire Kevin Garnett and Paul Pierce, who has been the most outspoken promoter of Brooklyn's chances in the Eastern Conference.

When asked by The Post why he is so confident, Smith said, "I feel comfortable. People ruled us out last year early, too. We added some great pieces. Unfortunately, we got rid of some good pieces. But we added Andrea [Bargnani], Beno [Udrih], Metta [World Peace]. We have to consistently play like we did the first 20 games last year the whole season. We can't have a middle-of-season lapse. We have to consistently play the same way."
via Knicks' J.R. Smith disses Paul Pierce, Brooklyn Nets & guarantees title - NYPOST.com.
See, you're supposed to be confident. It's one thing for a player to say "I'm the best player/ I'm the best player at my position." But guaranteeing a title is another level and kind of hubris. It rarely works out well, and in this case, it's an insult to the two-time defending champions. You can be confident and say you feel you can beat any team. Saying you will "100 percent win the title" is just arrogance that ignores the reality of what the team was last season. 
And the Nets were the fourth seed last season, and went to a Game 7 against a tough Bulls team. Likewise, they added two future Hall of Famers. But Smith's not trying to speak any sort of truth, here. He's just expousing trash talk, which is fine. Bear in mind that Smith is a much more careful guy wth the media than he is with his shot selection. He knows what he's doing here. 
As far as what the Knicks did last year and in the offseason, there's a lot of argument to be had about whether the Knicks got better or worse. If Metta World Peace turns in a great season, Andrea Bargnani rediscovers his jump shot, and Beno Udrih makes up for the loss of Jason Kidd, then yeah, they can definitely take a step forward. It's not crazy to think this team can capture the second seed, or even first if the Heat decide to coast in their attempt for a threepeat. They can win 55 games, no question. 
What's more interesting is how Smith talks about last year. That "middle-of-season" lapse lasted most of the year. From Dec. 1 through March 15, the Knicks were 28th in field-goal percentage, ninth in points per game, seventh in offensive efficiency, 16th in defensive efficiency, and ninth in net efficiency. (Efficiency is points per 100 estimated possessions a better estimate than per-game, due to the pace different teams run at, resulting in more or fewer possessions per game.) They were good, but not great. They just had an excellent November and an absolutely stellar last month of the season. 
So which Knicks team is the "real" Knicks? 
That's going to be the big question going forward. The Knicks had a huge number of injuries in that middle stretch, including Carmelo Anthony and Tyson Chandler. Maybe that's all that kept them from keeping up their early-season pace. But some of it was also shot selection ... and a lot of that falls on Smith. If the Knicks want to be that kind of elite team, it's not as easy as just saying it. It's changing who they are. 
Smith also said his doctor may keep him out the first couple of games of the regular season as he continues his rehab from offseason knee surgery.
Wade, as he's done so many times in his career, threw it up to LeBron for the thunderous f...

The Warriors coach added there should be no shame in being picked last since everyone's an...

We've got all the scores, highlights and news from all of Saturday's games
The two teams have reportedly not had any substantial discussions to this point

Oladipo may be getting most of the shine, but this second-year big man has been phenomenal...

SportsLine's Mike McClure, a DFS pro with more than $1M in winnings, gives optimal lineup...