J.R. Smith has small fracture in cheekbone, will wear mask Wed.
J.R. Smith fractured his face Sunday against the Thunder and will wear a mask because of it.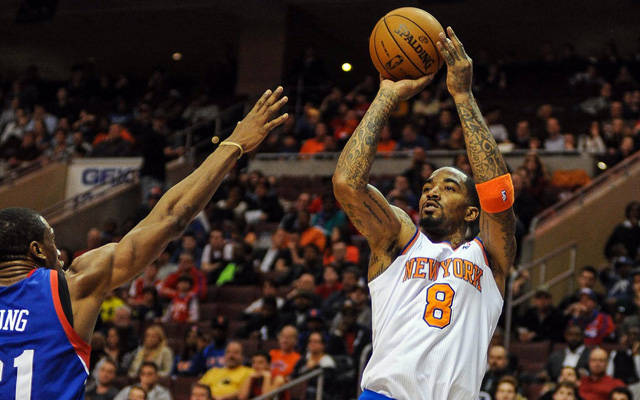 J.R. Smith will be wearing a mask for the next few games. So start preparing your jokes. 
After a nasty fall Sunday against the Thunder where Smith hit his face on Kevin Durant's knee, he suffered a small fracture in his cheekbone and is being fitted for a mask. 
Smith, who has been part of a number of issues and problems this season, has actually been playing quite a bit better lately, averaging 17.6 points in February on 46.9 percent shooting and 43.8 from 3. But dealing with a mask could take some adjusting and with the Knicks playing against the Kings on Wednesday, that'll be something to watch.
Smith, 28, is averaging 13.0 points and 4.0 rebounds in 40 games this season.
We've got all the scores, highlights and news for Thursday night

There were some weird discrepancies between the fan, media and player votes

LeBron and Steph will be the captains for the 2018 NBA All-Star Game
Arron Afflalo was involved in an altercation with Timberwolves big man Nemanja Bjelica on...

Fergie and Canadian rock band The Barenaked Ladies will sing their respective national ant...

Based on Gentry's tongue-in-cheek price, Boston is highly unlikely to acquire the big man