J.R. Smith thinks Paul Pierce is a bitter person in Nets-Knicks rivalry
New York Knicks' guard J.R. Smith says Brooklyn Nets' forward Paul Pierce is bitter and his words about rivalry will have consequences.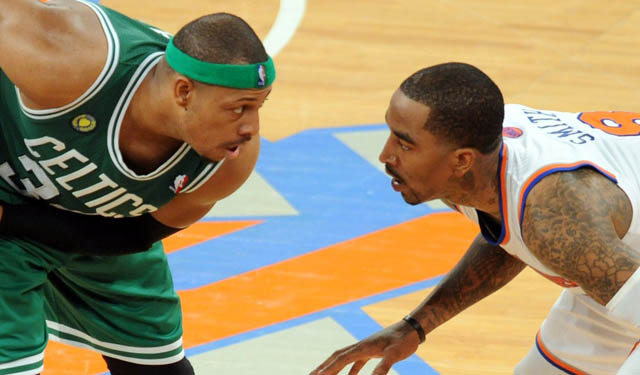 This Brooklyn Nets' challenging the New York Knicks ordeal was supposed to be calming down when the NBA reportedly stepped in and told the two sides it would be best if they calmed down the verbal spitballs going back and forth. With both teams jockeying for control of the basketball world in New York City, the trash talking picked up when the Nets acquired Kevin Garnett and Paul Pierce. Pierce recently talked about how much he dislikes the Knicks because of his years with the Boston Celtics and that it was time for the Nets to take control of the city.
Things were calm for a couple of days and then J.R. Smith opened his mouth and decided to fire back at Pierce by calling him a bitter person and saying he doesn't know what New York is all about. ESPN New York has the quotes from Smith in which is seems to have not received the reported memo asking the war of words to calm down.
Earlier this month, Pierce said that he believed that the Nets would eventually own New York.

J.R. Smith is the latest Knick to take umbrage to Pierce's comments.

"I just look at him as a bitter person just getting out of Boston. He doesn't really know what New York is all about. He's been playing in Boston his whole career," Smith told ESPN New York on Saturday.

Smith, speaking without anger in his voice, added: "He just knows, just know that his words have consequences and he's going to have to pay for them."
This is exactly what the league was thinking when it reportedly asked everybody to calm down.
The fun thing here is not really calling Pierce a bitter person as much as saying that Pierce's words have consequences and he'll have to pay for them. Who knows if the league will slam the hammer down and fine Smith for what could be misconstrued as a "threat" of sorts? It probably depends on how real the NBA's request to calm down is. It sounds like a lot of good clean fun right now and paying for his words most likely means the Knicks hanging a couple of losses on the Nets for speaking about owning the city of New York.
The rivalry certainly is calming down though. That is until someone else from one of the two teams is asked about said rivalry and we get another sound bite. My money is on Kevin Garnett or Kenyon Martin getting involved soon. 
The Warriors used a huge third quarter to come back from a 23-point deficit to get the win

Three takeaways from Golden State's 24-point rally past the Sixers

Okafor has played only 25 minutes this season
Capela's shoe slipped off, and was sitting near the free throw line

The Magic will instead play in the Las Vegas Summer League

Ball walked away from an altercation between the Lakers and Suns on Friday night