Jrue Holiday back Friday for Sixers
Jrue Holiday will return from injury Friday.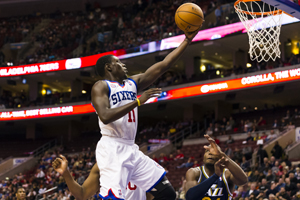 Holiday returns Friday.
(Getty Images)
Jrue Holiday has missed four games for the Sixers, and the results have been disastrous, as he recovers from a foot injury. But luckily for Philadelphia, the improved point guard returns Friday night against the Atlanta Hawks. 
Holiday struggled in his last game with the Sixers, and you could tell he just wasn't right. Holiday's in the midst of a career season and a huge candidate for Most Improved Player. 
Holiday's return along with Evan Turner should put the Sixers in a position to get back on track. The question is whether their recent slide can be entirely attributed to injuries or if this team, which started hot last year despite a similarly average level of talent, is starting to regress. The Hawks provide a good test for them, despite Devin Harris being unavailable. 
Kevin Durant says he doesn't agree with what President Donald Trump agrees with

Evaluating where the future Hall of Famer might land up if he is freed from Chicago's rebuilding...

Adam Silver said his piece with the schedule out; we address that and what the slate looks...
The Hawks and Sharecare reportedly agreed to terms on a five-year deal

A look at the context of the schedule and who plays who when, and how far they travel during...

Durant took on rapper Lil Dicky and actually might have lost