Julius Randle's tournament run shows his NBA readiness
Winning games, dunking putbacks and making plays, Julius Randle has done it all for the Wildcats in the tournament.
He's a beast, of that there can be no doubt. 
In a tournament that has raised more questions than answered them about the top picks in this draft, Kentucky forward Julius Randle has not only survived the Madness, but become the embodiment of it. The "upstart, underdog" Kentucky Wildcats entered the tournament as an 8th seed, and have gone on a tear, as the more veteran, "heart and hustle" teams have fallen by the wayside in the face of Kentucky's talent. 
Jabari Parker? Gone. (Which might be in part because he wasn't on the floor to end the game.)
Andrew Wiggins? Gone. (Which might be in part because his offense was entirely geared away from him.)
Doug McDermott, Marcus Smart, the list goes on. 
But here's Randle, who started the year as one of the "Big 3" of this now-heavily-criticized draft and fell after Kentucky's struggles to be "the best of the rest." The critcism that has haunted Parker and Wiggins over the past two weeks has been long set against Randle. His arms are too short, his vertical too low, his handle nothing special, he doesnt pass well enough, how will he defend. 
And truth be told, the tournament hasn't answered these questions. But sometimes, as crazy as it may seem sometimes, GMs and scouts look at a simpler question that ignores what makes up a player and focuses on the results. "Does he win?"
No matter the circumstances of a player's game, or the fact that tournament results often don't wind up hurting a player's chance of where he is taken, it's true that a strong performance in pulling your team to wins can help your case. Randle's been the benefit of that because he's put up the numbers and his team is winning. 
But if you want to look at what Randle's done, he's shown more of what makes him such an intriguing prospect. 
Randle's favorite move is the post-up spin move out of the dribble. He gave the Shockers fits with it in the third round.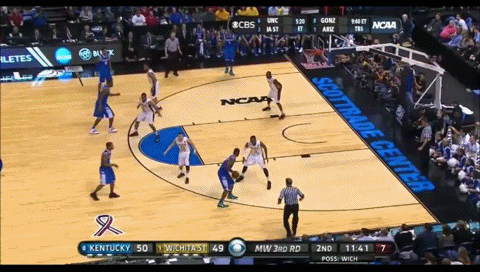 The key here is that he finishes despite the contact. That spin move won't be as effective at the next level and the help defenders will be bigger and longer. But Randle will be stronger and faster, too. If he can find his way under the basket, being able to absorb contact and finish is a huge part of what he'll need to do. 
Here again, he's going up against smaller opponents, but he's also showing how strong he he is. That's a key component here. Randle's strength set him as one of the most NBA-ready prospects, simply because he's not going to be bullied off the bat like a lot of power forwards.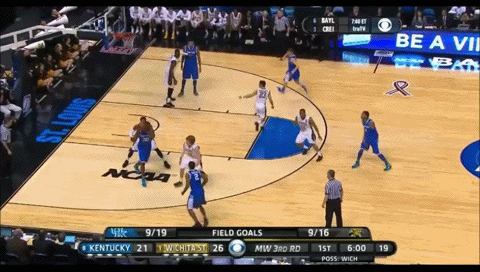 Now that's a flop attempt, but his ability to get as close to the rim as he does is an adavantage. He's also keenly aware of where the help defenders are and where the doubles are coming from. 
If the aggressiveness of Andrew Wiggins and other prospects was a concern, Randle certanly hasn't had that issue. He hasn't just needed the ball, either. He's been voracious on the offensive glass. Randle's not known for hyper-athleticism like Aaron Gordon, but this putback's pretty nuts.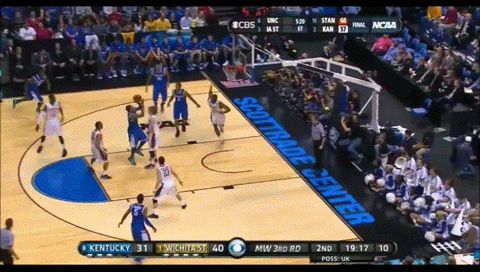 That's three-point to rim and the slam. Randle has a great vision for finding holes to attack the glass. He's as savvy a rebounder as he is strong. 
Here he benefits from the attention drawn by the driving offensive player, but he's going to get position under the basket (the Moses Malone move), put his butt into monstrous forward Montrezl Harrell, get position, and nail the putback.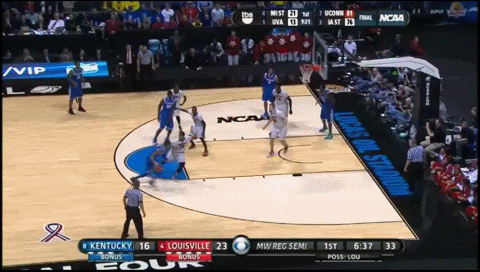 That's just great work getting leverage and that's a big guy he's keeping off. 
It's not all power and brute strength. This shows Randle's touch at the rim, something he'll need with those T-Rex arms of his.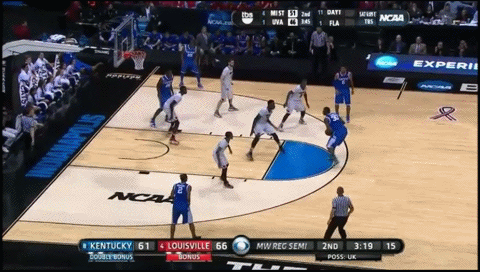 It wasn't all offense, though. Randle has played arguably his best defense of the season in the tournament. His rotations are sharp, his help smart, his challenges strong. He's shown a lot in the last few meaningful games. 
Watch on this one as he comes over from the far block and challenges at the rim.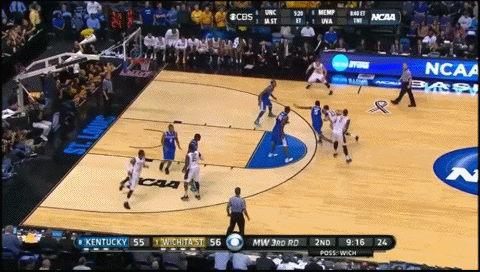 Huge play. 
Finally, the most impressive play I've seen from Randle in the tournament wasn't a dunk, a score, or a block. In a key situation in a huge game, he forced the defense to collapse on him, and made the right play. He passed.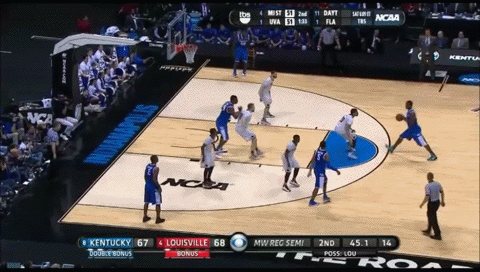 That's a big time play for a guy who seems like he has black-hole tendencies. And it's a great pass. As soon as he saw that help defender, he rose and kicked. 
The other Kentucky players have raised their stock as well, with Willie Cauley-Stein having injury issues but also being a force inside, Darkari Johnson exploding out of nowhere, and James Young showig everything you want in a wing. Don't even get me started on the Harrison twins, it's night and day from what we saw during the season.
But it's Randle that has lead the Cats, and he's shown why he may be the "safest" star pick, the player most ready to plug into an offense right now, and another example of how Kentucky proves every year its players are trustworthy to draft and build around. Wildcat, Inc. keeps producing out the best products around. 
Steve Kerr opens up about his back issues and more

OJ Mayo, banned from the NBA for positive drug test, is considering playing overseas

The King? 'LeBron, it turns out, is Aquaman,' or so the account via Dwyane Wade's wife goe...
From Penny to Thunder Dan to Pistol Pete to Agent Zero, guys who would be better in 2017

Griffin said recently he thinks it's more likely that LeBron James goes to New York than L...

Mayo was suspended for two years last summer for violating the league's anti-drug program