Kansas' Joel Embiid not your typical big man prospect
Breaking down what Embiid does well in the post offensively.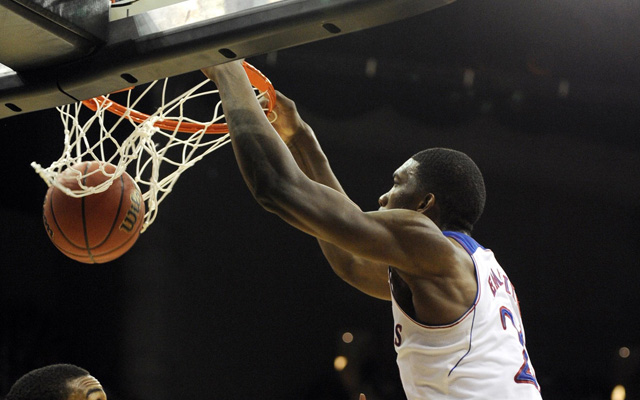 The Total Package: The first few times I watched Joel Embiid out of Kansas, I thought he was a prototypical project center. He looked raw, out of sync, the kind of guy you draft based on what he could be and his freakish athleticism.
Like this:
That... wasn't quite accurate.
Looking at Embiid now two months into the season is seeing an entirely different player and a center that threatens to crack the Holy Trinity of Julius Randle, Jabari Parker, and Andrew Wiggins at the top of this stacked draft. Don't get it twisted, Embiid does have the physical tools that make him an amazingly tantalizing prospect. Seven feet tall with a 7'5'' wingspan, Embiid only started playing basketball three years ago.
In July of 2011—the summer before his junior year of high school—Embiid attended a camp hosted by Cameroon native Luc Richard Mbah a Moute, a former UCLA standout who's now with the NBA's Minnesota Timberwolves.

Embiid had dabbled in basketball as a child, often engaging in pick-up games with friends from school or at a local park. But he said he'd never played on a team or been coached, and with little media coverage, Embiid rarely watched basketball on television.

Those things apparently didn't concern Mbah a Moute as he watched Embiid—who was 6'9" at the time—during the camp. The footwork and distance runner's stride he had developed on the soccer field, the aggression he had used spiking volleyballs, the discipline and selflessness instilled in Embiid by his parents...all of it was on display that weekend.
via Meet Kansas' Joel Embiid, a Cameroon Native Blossoming into a Top NBA Prospect | Bleacher Report.
There have been so many big men prospects that never pan out through the years. Seven footers who hadn't played the game long but were recruited and shot up the draft boards on account of being tall and long. But like most of the prospects in this loaded draft, Embiid takes the model and goes one step further. 
In the NBA game, play style has moved beyond back-to-the-basket. Being able to spread the floor is important for any big man to be a central component of the offense and not just a player you hide for cleanup purposes. But Embiid has shown that faceup ability in recent weeks. 
But like any good big man propect, Embiid really shines in the post. For starters, that hook shot ain't bad.
He's only 3-of-7 this year on hooks via Synergy Sports, but there's enough there to like where it's going. Take a look at his footwork on this semi-hook turnaround, even on a miss. 
The decisiveness when he gets the ball is a big deal, here. He's able to read the defense and decide what he wants to do with it, but he's also not just going through the motions of his footwork, he's able to improvise, moving back under his pivot. Dwight Howard still struggles with that kind of improvisation. (Howard is also of course much stronger and bulkier than Embiid, but give the Jayhawk time.)
Maybe the most impressive thing about Embiid offensively, however, is his willingness and ability to work to find the gaps to score vs. defenders. He's comfortable going to the reverse, which is pretty rare for a guy that size. 
See how he recognizes the double, fakes the pass-out and then immediately spins to the baseline? Now, at the NBA level he's going to find another defender waiting on him at that point most times, but the recogniton and ability to side-step that baseline is impressive. 
There are a lot of strong seven foot prospects. Even ones that can get their shot off through contact. But finishing through it is a much harder proposition. Even when the pass is bad, he's able to find a way to correct his shot. 
He's comfortable rotating to face the basket and finishing through. Here the defender's just fouling to prevent him from shooting and instead Embiid winds up with an and-one. 
Embiid struggles more when on the move, but you had better have help defenders in the middle when he posts, because if he gets to the paint unimpeded, you're in trouble. 
Finally, Embiid's shown excellent patience for a guy as new to the game and raw as he is. Being willing to trust in the re-post is a lost art in the NBA. Watch Embiid test the double, kick it out, then maintain position and when he gets it, victimize the defense when he recognizes where the space is. 
Embiid still has a lot to learn. Defensively he's a difference maker with his length, but there's so much more that goes into being a good NBA defender than that. He needs to work on his pass to the corners and ball-reversal from the post, and he's not asked to operate in the pick and roll hardly at all at Kansas. That's likely to change dramatically at the NBA level and the spacing for that common set is harder to learn that most expect. 
But you watch Embiid and you recognize that this isn't Hasheem Thabeet. He's not coasting based on his athleticism and height. He's a gifted, graceful scorer who projects to be the focus of an offense on the right team if drafted. As good as the Holy Trinity is, whoever winds up with Embiid in next June's draft will have a good case for saying they may have found a steal, even in the top five. 
Leonard's relationship with Spurs also reportedly strained because of how injury has been...

San Antonio hasn't missed the playoffs in 20 years, but the road is rocky this season

Last year's MVP finalist has missed all but nine games this season
The design for the patch is still being worked on

The explosive forward and upcoming free agent is having a career year

Cuban said on Dr. J's podcast that losing is Dallas' 'best option'