Kareem Abdul-Jabbar questions Andrew Bynum's 'heart'
Lakers legend wonders about Bynum's commitment to winning following suspension.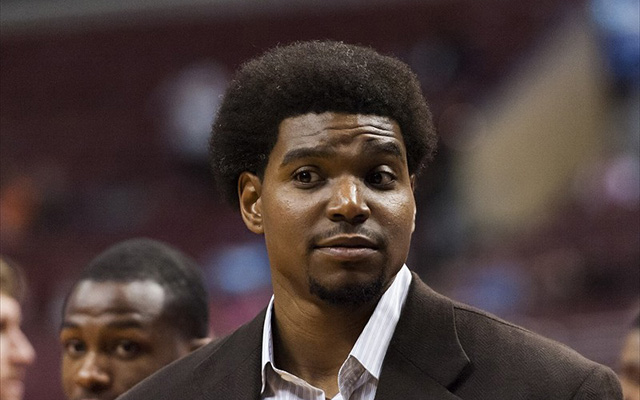 Lakers legend Kareem Abdul-Jabbar posted his thoughts on Cavaliers center Andrew Bynum Sunday morning after the former Laker was suspended indefinitely by the Cavs amid rumors he's simply no longer interested in playing basketball. 
I believe Andrew has always had the potential to help a team when he puts his heart into it. He just doesn't seem to be consistent with his commitment to the game. That can lead to alot of frustration for any team that has signed him.

When I worked with Andrew I found him to be bright & hardworking but I think he got bored with the repetitive nature of working on basketball fundamentals day in and day out... but they are the keys to long term success.

In my opinion Andrew is the type of person who walks to the beat of "a different drummer". So we won't know the facts until Andrew decides to tell us what actually is the issue and shares his thoughts. @KAJ33
via Kareem Abdul-Jabbar.
Abdul-Jabbar worked with Bynum during the younger player's time with the Lakers, but stopped in 2009, believing he had "outgrown" the tutelage of the NBA's All-Time Leading Scorer, according to reports. In 2012, Abdul-Jabbar had this to say about Bynum: 
"Andrew has been up and down on  (being committed to winning). There are times he wants to play, do a great job and he goes out and does it. Then there are other times where it seems like he's not focused."

"When I first started working with him, he was eager to learn," Abdul-Jabbar said. "He appreciated me shortening the learning curve. Once he figured he did everything he wanted to do in terms of learning, he didn't want me to bother him constantly going over the fundamentals."
via Kareem Abdul-Jabbar knows what Lakers' Dwight Howard is going through - Los Angeles Times.
It's not that Abdul-Jabbar is necessarily wrong, but the comments seem to come out of nowhere since he hasn't worked or spoken to Bynum that we know of since 2009. Abdul-Jabbar has consistently tried to find a way into coaching ranks and this comes across as more self-promotion than anything else, particularly making sure everyone knew it was on his Facebook page. 
Still, it's hard to argue with The Captain, considering where Bynum's career is at. Bynum's suspension was lifted by the Cavaliers Sunday but he remains excused from all activities while the team attempts to find a trade with the January 7th deadline to guarantee his full 12 million this season hanging. 
Oladipo may be getting most of the shine, but this second-year big man has been phenomenal...

SportsLine's Mike McClure, a DFS pro with more than $1M in winnings, gives optimal lineup...

The Lakers were just 2-14 from the stripe
The Cavs are reportedly looking to acquire numerous players -- even Teen Wolf?

SportsLine simulated Saturday's Rockets-Warriors game 10,000 times

Two underperforming squads will square off on Saturday afternoon