Kareem: Kobe Bryant won't be the same this year
In an interview with CBS Sports Radio, Lakers great Kareem Abdul-Jabbar says that Kobe Bryant won't be back quickly and won't be the same once he returns from his Achilles injury. He has a point.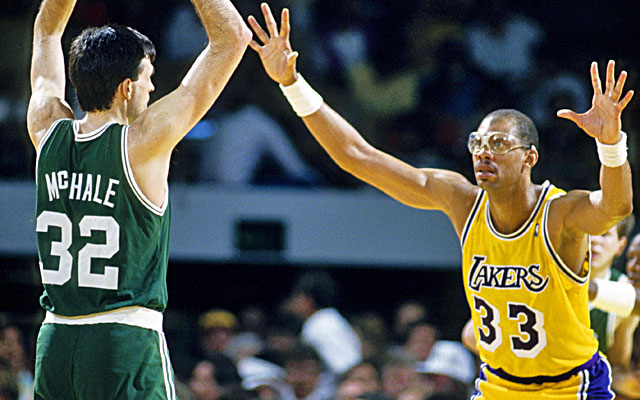 It's been five months since Kobe Bryant's Achilles' tendon gave way on a move he's made a million times. Five months since he winced in pain, swatted at the back of his leg as though someone were kicking him. Five months since he somehow shuffled to the free-throw line, drained two shots, and slowly limped to the locker room and out of the Lakers' lost season for good.
It was known that night, April 12, that Bryant wouldn't be ready for training camp. The Lakers are operating under the assumption that he won't be available for preseason at all. Now, in an interview with CBS Sports Radio, Lakers great Kareem Abdul-Jabbar says Bryant won't make it back to the court as quickly as he'd like -- and that once he comes back, he won't be the same.
"It's a rebuilding year for them because Kobe has been hurting and he has a very devastating type of injury," Abdul-Jabbar said in a recorded interview that aired Thursday on CBS Sports Radio's morning show with Tiki Barber, Brandon Tierney and Dana Jacobson. "I don't think he will be able to come back as quickly and completely as he would like. It's gonna be tough on the Lakers this year."
Then, Abdul-Jabbar hit the Lakers with a dose of reality, a grim possibility that no Lakers fan would want to contemplate.
"When Kobe does come back, it's gonna be a different Kobe and that will definitely effect the outcome for the Lakers long-term," Abdul-Jabbar said. "… It's gonna be a test for him this year, absolutely."
Bryant, 35, has been one of the most durable marvels of modern athletics. Nothing, it seemed, would keep him down for long. 
But the notion that Bryant would just put on his Kobe face, breeze through rehab and go right back to draining 20-foot, fadeaway jumpers on opening night was flawed from the beginning.
The reality, as Abdul-Jabbar alluded to, is that Bryant is in the fight of his basketball life.
I hate to say it, but Kareem has a point. Bryant has been in the NBA since I started covering it, and if there were ever a comeback I'd be willing to put a downpayment on, it would be his.
But Bryant faces challenges from all sides on this one. First, there is the injury itself; the tendon has to heal, it has to heal properly and it has to regain its ability to do its job under all the torque, fatigue and directional changes that basketball demands.
In a sense, that's the simple part. As I wrote recently, it isn't just the rehab and recovery that are bearing down on Bryant. Entering his 18th season, Bryant must prepare himself for the grind ahead without his usual offseason strength and conditioning program. Not even Bryant can do Olympic weightlifting, sprinting and his other assortment of maniacal physical activities while his surgically repaired tendon is healing.
So as training camps opened across the league this week, Bryant found himself at a crossroads in his recovery. How quickly or slowly he takes it from here, and what specific training progressions he makes as he transitions from recovery to strength and conditioning are crucial decisions. Will the Lakers medical staff, for example, agree with the approach that Bryant and his own personal trainers want to take? That's always an issue when a superstar is trying to make his way back from a devastating injury. Decisions will have to be made, and everyone will have to be on the same page.
That's where the word "rebuilding" enters the picture. If this is going to be another lost season for the Lakers, how much risk should the team expose Bryant to along the way? He is in the final year of his contract for $30.5 million. With Dwight Howard's departure for Houston, the Lakers will have tens of millions in cap room next summer to lure high-level free agents to the most attractive city and organization in the league.
How many years Bryant has left was a logical question even before he pivoted in the mid-post against Harrison Barnes and felt his Achilles snap five months ago. It is an even more loaded question now.
Kareem Abdul-Jabbar is not a doctor or a trainer, and he was just giving his opinion. But the man speaks the truth, or at least a version of the truth that should be taken as a realistic possibility. 
On the long road back for Kobe Bryant, there are no guarantees.
Griffin said recently he thinks it's more likely that LeBron James goes to New York than L...

Mayo was suspended for two years last summer for violating the league's anti-drug program

The NBA broke its silence with a statement related to the Lakers-Paul George tampering cha...
The Clippers big man thinks LeBron will reunite with the banana boat crew at some point

Have the Clippers reportedly found their next GM?

The NBA stayed to the point in their response to the Greek basketball federation