Karl Malone admires the new wave and style of power forwards
NBA Hall of Famer Karl Malone is one of the all-time players who likes the progression of Blake Griffin and today's power forwards.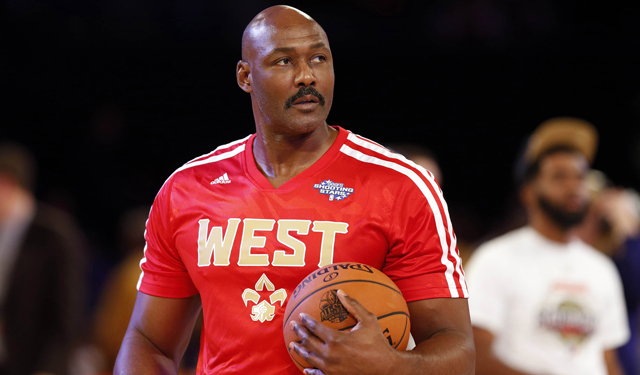 NEW ORLEANS -- Players who have been there and done that in the NBA tend to be harder on the up and coming stars of the NBA. When you've had the spotlight on yourself for so many years and performed feats that have rarely been seen at the highest level of competition, it's hard to give younger players their due before they've accomplished the same things you did in your career. 
Whether it's making players earn their stripes or almost a rookie star hazing of sorts, players like Shaquille O'Neal and Charles Barkley have been critical of today's stars when analyzing their games in studio post-game shows. O'Neal has wanted much more out of Dwight Howard's game in his three different NBA stops, almost pleading for him to become a dominant big man of the past. Barkley has wanted to see more toughness, back-to-the-basket play, and old school physicality from Los Angeles Clippers' star Blake Griffin.
As we get ready for the All-Star Game in New Orleans Sunday night, one Hall of Fame player seems content and excited about the big men of today. As Karl Malone held court during his media availability on Friday afternoon, he was asked about power forwards like Griffin and LaMarcus Aldridge of the Portland Trail Blazers. Malone didn't seem interested in critiquing the power forwards of today, instead opting to appreciate the new style of attacking.
"I love his game," Malone said about Aldridge. "Big guys, forwards don't do this. I think every power forward should turn and face the basket, not [attack] with their back to the basket. Those guys do it. When you do that, that's your midrange game right there.
When you do that, the person playing you, he's scared to death, by the way. You see some guys keep their back to the basket but I love these guys, how they turn and face."
In Malone's 19 years in the NBA, he had an incredibly versatile attack. You don't get to 36,928 career points (second all-time) without being able to switch up your attack. Malone could take you into the post and score with his strength and brute force. He would also face up against the defender and either drive in for a shot in the paint or wait for you to relax as a defender before hitting you with a midrange jumper. In a way, he was ahead of his time, adapting to the concept of spacing with shooting.
He wasn't backing up behind the 3-point line and bridging the gap from Kevin McHale to Steve Novak, but he was making big, slow defenders uncomfortable by showing deadly accuracy from 15 feet out. Malone sees the value in giving yourself the triple threat option against big men back then and in today's game.
In terms of a balance between attacking the basket and shooting a jumper, there may not be a better offensive force out of the face-up than Griffin right now. The Clippers' star has raised his game yet to another level this season, keeping the team going when Chris Paul was absent with a separated shoulder. He's a 39.2 percent shooter from midrange, which isn't legendary by any means but it makes the defender uncomfortable enough to allow Blake to drive to the basket and get the most efficient shot in basketball: a dunk.
Although with different athletic capabilities in their youth, Malone sees a lot of himself in Blake's game.
"Without the jumping part, I'll say Blake Griffin," Malone said when asked which player from this era is most like himself. "I like Blake. I just like him. I like all the power forwards but I just like Blake. I like the way he plays."
Malone has been watching Griffin for quite some time, well before the four-time All-Star made it to the NBA. Malone's son was a big fan of the Oklahoma Sooners, even attending a football camp there at Griffin's alma mater. Griffin was becoming a star at Oklahoma, roughly 35 miles away from where he attended Oklahoma Christian School for high school. Malone never made a point to interact with Griffin but he took notice of his game and the way he plays. He instantly started becoming a fan.
"I just loved watching him play, how hard he played, and how physical he plays," Malone raved. "There's like 10 or 12 guys that if they're playing on TV, I'll watch and see him. When he comes off the floor, I change it and go back. I just like the way he plays."
He's pleaded on television for Griffin to get mad one time and react to some of the hard fouls or cheap shots he may take over the course of the basketball game. Malone even offered to pay Griffin's fine if he does it. Griffin refuses to take him up on that offer, instead opting for trying to keep his mouth shut and continuing to play the game. It's one of the differences that Malone sees in Griffin and appears to respect quite a bit, even if he doesn't always agree with it.
"Number one I never jumped like that," Malone said. "I jumped when I had to. I just like his demeanor. I would like to see him get mad one time but me, it didn't take me too much to get me riled up. Blake is one of those guys that he just plays the game, no matter what."
As Griffin sets to take flight during his fourth All-Star Game, third straight as a starter, Malone continues to admire not just his game but all of the All-Star power forwards and their multi-faceted way of attacking a defender. 
"I would like to see [facing the basket] more," Malone said. "Like I said earlier, especially when you have talent and the skill set that Blake has, Kevin Love, Aldridge, and those guys, when you turn and face your opponent, they're scared to death. When [Griffin] can get on top of the basket, I would like to see him do that more than with his back to the basket. I would never pay to see anybody play but I will go see him play if we're in the same area.
The power forwards we have right now, they're taking it to another level and I love watching them."
T.J. Warren gets paid big money by the Suns in a four-year deal

Melo didn't hold back on his feelings about President Donald Trump and urges for help in Puerto...

The Wizards star says the NFL won't change until important players like Brady and Rodgers speak...
Popovich spoke at length about sports, race, culture, and politics during Spurs media day on...

Carmelo Anthony finds the idea of coming off the bench very funny

Several teams spoke about Trump's recent comments about protests and the Warriors' White House...