Kawhi Leonard responds big time in first half of Game 3
The first half sees Spurs forward make a big adjustment to attack in better and stronger ways, helping the Spurs lead by 21.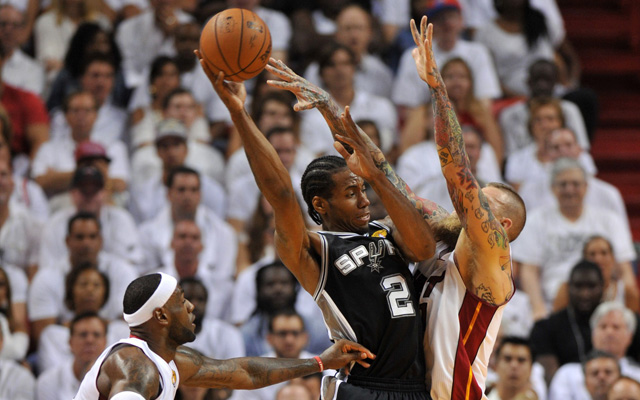 In Games 1 and 2, Spurs forward Kawhi Leonard was passive. Whether it was foul trouble, adjustment to the speed of the Heat or just mental difficulty, he was held in check in large part. But in Game 3, Leonard was absolutely venomous, striking on defense and attacking on offense. The result was a 21 point first-half lead for San Antonio. Leonard finished the first half with 18 points, three rebounds and three assists. 
It's key for Leonard to be aggressive. It forces LeBron James to work harder on defense, and Leonard's strength allows the Spurs to attack the rim, which opens up their perimeter offense (which is just as key). It's a huge part of the game. And it's not just obvious plays like his shooting. Ray Allen tried to save the ball off a steal late in the first half. Leonard zipped in front of LeBron James and saved the possession, which lead to a Diaw 3-pointer. It's those plays that can make a huge difference. 
The Spurs shot unbelievably well. But Leonard made the difference by setting the tone. The Spurs need him to be part of the Big Four. In Game 3, he's shown up for it. 
Thomas took to Twitter to let the Celtics know he doesn't want to ruin Pierce's night

The Hall of Famer was a seven-time All-Star with the Celtics, and was MVP of the 1976 Fina...

It's rare to see a legit punch in an NBA fight, but this was definitely one of them
We've got all the scores, highlights and news from an NBA Tuesday

The former Slam Dunk Contest champion will take his talents to Tri-State

Do NBA players have look-a-likes from famous paintings? We found out on the new Arts & Culture...