Kawhi Leonard suffers broken finger vs. Thunder
Spurs forward could miss some significant time with hand injury.
Spurs forward Kawhi Leonard suffered a fractured finger Wednesday night vs. Oklahoma City and is expected to miss "some time" with the injury. Here's a GIF of it. It's gross, as a heads up.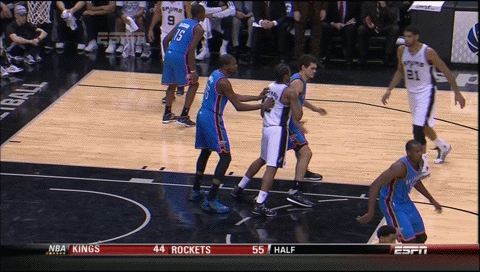 USA Today reports there's a good chance Leonard will avoid surgery. Leonard returned to the Spurs bench with a cast in the second half. 
Based on initial evaluation of Spurs' Kawhi Leonard (fractured 4th metacarpal right hand), early signs are that surgery likely not required.

— Sam Amick (@sam_amick) January 23, 2014
Leonard's finger appears to be stable. As has been noted, he'll see hand specialist in San Antonio tomorrow to get more info and a timeline.

— Sam Amick (@sam_amick) January 23, 2014
Leonard is averaging 14.7 points and 7.7 rebounds this season for the Spurs. Without him, Kevin Durant scored 35 points on his way to a Thunder win in the AT&T Center. 
Beverley handcuffed Lonzo on the court, and the emotion carried into the locker room

Ball's eagerly awaited first NBA game didn't go the way Laker fans hoped

Griffin can still hand out posters with the best of them
The Knicks forward is a bucket-getter in the truest sense of the term

On the TNT broadcast, even Shaq finally admitted that he likes Joel Embiid's game

The Warriors new Nike classic uniforms will be revealed Thursday