Keeping options open, Durant discusses his free-agent future
Kevin Durant and Oklahoma City have enjoyed a long, peaceful and successful partnership. With his free agency approaching in 2016, that bond is entering a period that will test its strength.
More from Team USA camp: Irving's new reality | Rose begins another comeback
LAS VEGAS -- The NBA's superstar free-agent merry-go-round never stops spinning. Carmelo Anthony, Deron Williams, Dwight Howard, LeBron James, Howard and Anthony again, LeBron again, Kevin Love, and on and on.
Once Love's attempted exodus from Minnesota is handled one way or another, next up will be the player who perhaps represents the biggest star in the smallest market in the league: Kevin Durant.
Durant's 2016 free agency is still two years away, and he and the Thunder have enjoyed a nice, long, peaceful partnership -- not to mention a successful one -- since he signed a five-year, $86 million extension in 2010. There have been no opt-outs, no decisions, no drama for Durant since the Thunder (then the SuperSonics) drafted him No. 2 overall in 2007.
But that day is coming. And as he settled in for a long interview session after Day 2 of Team USA's training camp here on Tuesday, Durant opened up about his love for OKC, the speculation that he might return to his native Washington, D.C., as a free agent and what James seizing his own destiny and career narrative says about superstar power in the NBA.
"It's fun to see a guy think about more than just basketball for once, and himself," Durant said. "Not saying LeBron always thinks about himself, but he thought about the city where he comes from, northeast Ohio and how he could affect so many kids bigger than basketball. I love that. I love that."
Durant called James' decision "well thought-out" and "classy."
"Great move to do it with a letter," he said. "That was pretty cool. So many guys get criticized for making a decision, what's best for them, instead of what's best for everybody else. And here was a guy that did that and you've got to respect him. I applauded him. I texted him and told him congratulations on that decision and I was happy for him."
Durant said he hasn't found anyone within the NBA who didn't think James' decision to return home was a good move, but perhaps he should've polled his current employers. Nowhere did James' decision and its ramifications for the next public test of superstar power resonate more ominously than in Oklahoma City.
There has never been a sliver of doubt about Durant's commitment to OKC, and the opportunity that he's had to at least be in the championship hunt for five years running has been meaningful to him. But Durant is close with James -- they work out together almost every summer -- and watching his chief rival alter his career path and legacy not once, but twice as a free agent has made an impact.
"It's great to feel wanted," Durant said. "You can tell, man, when guys are taking four or five trips to see teams; you've got to see what's out there if you're a free agent. We're playing in a league where star power impacts so many different people, you've got to look at all your options. ... One guy could change it all."
One guy changed it all for Miami when James went there in 2010, and the same guy might well change everything for Cleveland in returning -- on a two-year deal that affords James as much power as any NBA star has enjoyed since Michael Jordan.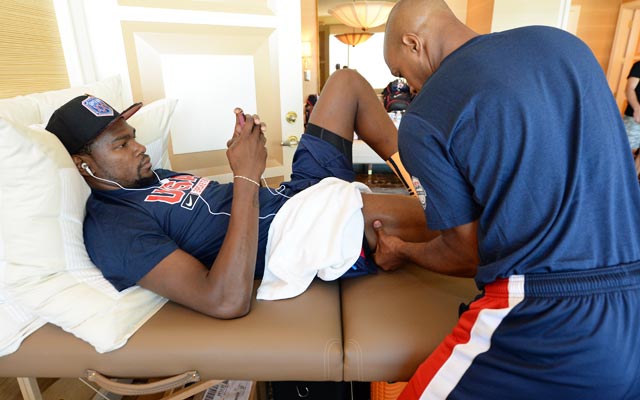 Durant's 2010 extension, which runs through the 2015-16 season, included no player options or early-termination options. Durant chose not to exert his leverage to achieve the all-important "flexibility" that James, Dwyane Wade and Chris Bosh built into their 2006 extensions with their respective teams or in their six-year deals with Miami in 2010, which all three terminated this summer.
"I just didn't know," Durant said. "I thought that was normal. I was 21; I didn't know. But obviously when you sign a deal, you want to have the best options for yourself and flexibility for yourself. But I love Oklahoma City so much, I just wanted to dedicate everything and show them that I'm all about the team."
The idea that Durant and his agent at the time, Aaron Goodwin, weren't aware that player options or ETOs could be included in veteran extensions doesn't pass muster -- especially since Durant and the team have since trumpeted that decision as proof of Durant's commitment to Oklahoma City.
(That Durant contract, incidentally, has been a two-way street. The deal was retroactively increased after the lockout because it was ruled that Durant was eligible for a new, higher max in a provision known as the Derrick Rose Rule. The Thunder subsequently were reimbursed a portion of the difference, but the refund did not alter the team's positioning with respect to the salary cap or luxury tax.)
In the end, Durant's 2016 free-agent decision will be based on a multitude of factors, hardly any of which he has enough information to address now. But in the NBA's transaction culture, it won't stop speculation about what Durant's next move will be -- especially considering that his hometown Washington Wizards have assembled young talent while preserving cap room to make a run at Durant in two years.
"I grew up watching the Wizards, the Bullets; I grew up taking the train to that arena all the time," Durant said. "I watched Georgetown. I watched the Bullets. I watched the Mystics. So that whole city is a part of me; it's in my blood. Like I said, I love going back home to see my family and stuff and playing there, but I love Oklahoma City, too."
This was Durant not answering a question that is, at the moment, unanswerable. It was also him not shutting any doors.
"Look, we're going to put it all on the table," Durant said. "It's been talked about. Everybody's asked me about it. Every time I go on Instagram or Twitter, all my friends ask me about it. I'm not going to sit here and act like I'm naïve to the fact that people think about that stuff. But I just tell everybody, man, look: I'm here in Oklahoma City. I love it here. Who knows what will happen. You never could close the door on anything, but I like where I'm at right now and I can't answer those questions."
The Thunder have reached the NBA Finals once in the Durant era, and are positioned to have a chance to return for the foreseeable future.
"To have the chance to compete every single season for a championship," Durant said, "you can't beat that."
But given the chance, free-agent Pau Gasol ignored Durant's recruitment efforts this summer and signed with the Bulls. James Harden had to be traded to Houston because the CBA proved too restrictive for a small-market team looking to keep a core of multiple stars together.
"It's kind of tough to sell guys on Oklahoma City or Chicago, or Oklahoma city or LA," Durant said. "But if they come to Oklahoma City and see the love they get there, guys would want to come."
Now, James has gone home and opened up a whole new avenue for stars to follow. Durant's commitment to Oklahoma City is about to enter a two-year window that will test all the boundaries. Durant has felt the love in OKC, and OKC has received plenty in return. How long that can last is the great unknown as the NBA's free-agent merry-go-round approaches the next stop.
The Lakers legend details why the NBA popularity will continue to rise

SportsLine's Mike McClure, a DFS pro with more than $1M in winnings, gives optimal lineup...

If the Thunder forward doesn't know the reason, he has a very short memory
The 76ers star doesn't see a bright future for Jon Snow

Valanciunas played professionally in Lithuania before joining the Toronto Raptors

SportsLine's advanced computer model simulated Tuesday's Cavaliers-Hawks game 10,000 times