Kendrick Perkins: 'I'm pretty sure I'll be back here next year'
There is a lot of talk about the Thunder using the amnesty clause on Kendrick Perkins, especially after his bad postseason. But Perkins is confident he'll be back with the Thunder.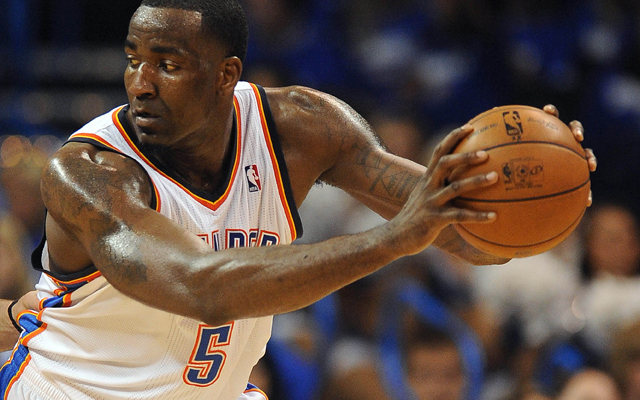 OKLAHOMA CITY -- When Kendrick Perkins walked in to his season-ending media availability, he was noticeably sweaty. 
One reporter pointed it out to him, and Perkins first said it was just the lights. Then he said, "I just left out of Sam [Presti's] office, so I might be sweatin' a little bit."
"That was a joke," Perkins followed up. 
The talk surrounding the Thunder's offseason largely is focused on Perkins and whether or not the team should use the amnesty clause on him. But he's not sweating it out. 
"I'm pretty comfortable and I'm pretty sure I'll be back here next year," Perkins said. "They said they were going to amnesty me last year or trade me last year, but whatever. I know what I bring to the table, and I'm cool with myself. I'm going to go to sleep tonight."
Perkins, who is owed $8.9 million next season and $9.3 million in 2014-15, had one of the worst statistical postseasons in NBA history. He appeared in all 11 postseason games for the Thunder and averaged 19 minutes. In those 11 appearences, Perkins finished with a negative player efficiency rating. That's right, he had a -0.7 PER, which is the worst PER in NBA postseason history by a player playing 200 or more minutes. No one in NBA playoff history has ever had a negative PER with that many minutes. 
There's also this: Perkins blocked just five shots, committed 24 turnovers while scoring just 24 points, and he finished with two more rebounds (41) than he had personal fouls (39). 
Perkins maintained on Thursday that what he brings isn't found in the box score, and his teammates back that up.
"Perk man, he's the best defensive post defender in the league," Russell Westbrook said. "He anchors our defense. He helps Serge a lot. He guards the best big and the bigs shoot, Serge has an opportunity to get blocks. He does a lot of different things for this team and I think a lot of people don't understand that, and he's a big part."
The Thunder don't have a ton of options inside to replace Perkins, though they will likely have a lottery pick to use. With Ibaka potentially solidifying his defense enough to play more center, the need for Perkins is in question. 
"It's easy to point the finger at somebody," Perkins said. "If something don't go right, it's easy to say let's make a change. But what if the change don't go right? Then you've got to make another change. You don't see San Antonio making changes all of a sudden. They're sticking with what they believe in."
There's a lot of talk about what the Thunder did and didn't need in the playoffs, especially after Westbrook's injury. Many felt a post presence would've helped the team, though as Perkins and some of his teammates noted, the Thunder boasted the second-best offense in the entire league this season, and a top five defense to go with it. So the blame game was directed a lot at Perkins, and while he had a bad 11 games, the Thunder's demise was still about their missing point guard. 
"Russ does one thing that stands out to me. He gives everybody swag," Perkins said. "He gives everybody swagger to Coach Brooks to KD to myself. I feed off of Russ. Russ may say he feeds off of me, but I feed off of Russ."
The NBA broke its silence with a statement related to the Lakers-Paul George tampering cha...

The Clippers big man thinks LeBron will reunite with the banana boat crew at some point

Have the Clippers reportedly found their next GM?
The NBA stayed to the point in their response to the Greek basketball federation

The Pacers believe the Lakers tampered with Paul George before they traded him

Among the questionable decisions by Jackson was signing Noah to a long-term, lucrative dea...