Kenneth Faried misses practice with strained hamstring
Denver forward goes down with leg injury in practice. Will it affect his position in the rotation?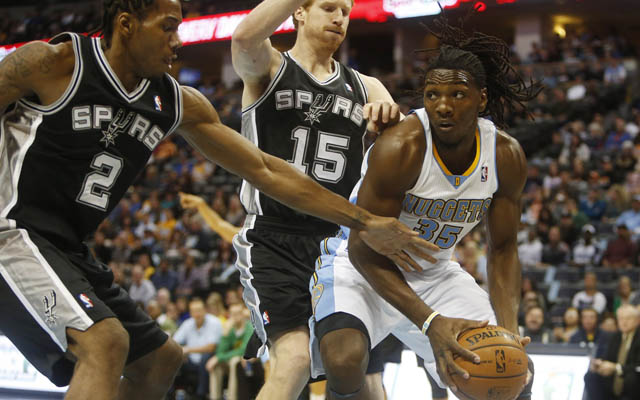 The Denver Post reports from Nuggets practice that forward Kenneth Faried suffered a strained hamstring in practice Thursday and is day to day. 
The timing is unfortunate for Faried. He's being asked in Brian Shaw's offense to play in much more of a traditional power forward role, which requires footwork and shooting he may not possess yet. Even after a preseason game Monday in which J.J. Hickson was given the start just to see what the lineup looked like, and in which Faried wound up scoring 22 points and adding nine rebounds off the bench, mostly just by his usual array of energy plays, Shaw was resistant with his play. 
Shaw was asked after the game if there's a point where Faried's energy and raw ability to make things happen with his play overcomes the gap in his polish. Shaw responded by talking in general terms instead of singling out Faried, but... 
"I know that's the main thing our bigs can bring," Shaw said,"our energy.  We're not as polished as a lot of bigs in the post in terms of throwing the ball to them with their back to the basket and them going to get a bucket for us. But that's the way we have to play, and they just have to get used to doing it that way, because that's how we're going to do it.

It's a process, and they'll gain more confidence as they get used to the way we're going to get the ball inside to them." 
Hickson's not dominant in that respect either, but he's a lot more so than Faried. Faried's injury could further complicate his role in Shaw's offense. But overall, Faried is the superior player. He simply makes more of an impact at both ends, even with a lot to learn on the defensive end in terms of rotations and covering players in space. This will be something to watch, along with Faried's recovery. 
The Nuggets' next preseason game is Saturday against the Clippers. 
Markieff Morris was already in line to miss the start of camp due to a pending assault cas...

The 76ers should hopefully get a lot of play out of their young guys this season

Okafor's been on and off the trade block for over a year and doesn't seem to be in Philly's...
Fisher is the fourth NBA player to compete for the Mirror Ball trophy on the show

Barkley commends the NBA, sarcastically, for extending the season and reducing back-to-back...

Enes Kanter isn't seeing much comedy in the Kevin Durant social media situation