Kevin Durant and Kevin Love to play in 2014 basketball World Cup
Kevin Durant and Kevin Love announced in Las Vegas that they will play for Team USA in the 2014 World Cup.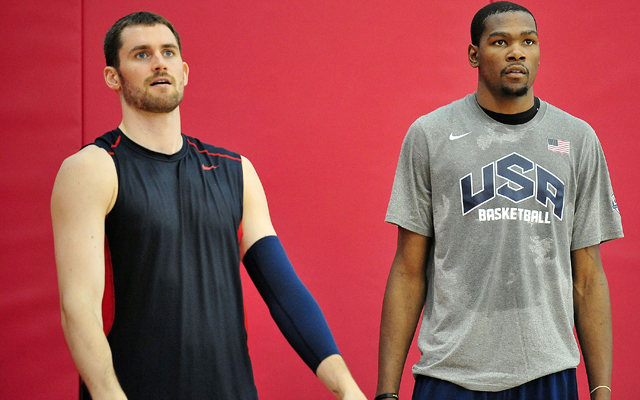 The United States might have just put the 2014 basketball World Cup on lockdown. 
Kevin Durant and Kevin Love announced Wednesday in Las Vegas that they are committing to Team USA for next year's tournament in Spain. 
Durant and Love were key members of the 2010 team that took home gold in Turkey. Durant won MVP of that tournament, with both him and Love playing roles on the 2012 gold medal team in the London Olympics. 
The Olympics have kind of taken the top spot in terms of the tournament the elite NBA players participate in. That's part of the reason FIBA has rebranded to calling it the World Cup from the World Championships, in an effort to make it more of a prime international tournament. 
Locking two stars like Durant and Love into it is a helpful boost too. And it means other top U.S. players might follow in line. Russell Westbrook has already hinted he might be playing for Team USA as well next summer. With teammate Durant and buddy Love already locked in, I'd say the chances of Westbrook joining are pretty high.
And the chances for the rest of the world are getting lower. 
Davis left the Pelicans' game against the Nuggets in the third quarter

Popovich was upset about an out of bounds call

Wall went 3-for-12 from the field, and had just eight points in the Wizards' loss
Noah was reinstated from his 20-game suspension on Monday, but is yet to play for the Knic...

In his first season with the Cavs, Rose has not played since Nov. 7

Keep it right here for all your Friday NBA scores, updates and highlights