Kevin Durant and The Game end their feud
Thunder forward and rapper settle their dispute over $20,000 in charity money.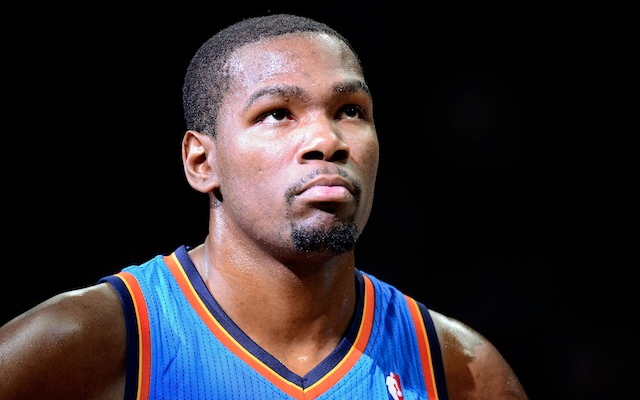 More Offseason Analysis: Coaching changes, news | Free Agency | Draft
So we kind of missed this one, what with the playoffs and free agency and the draft and Game of Thrones and all, but rapper The Game and Kevin Durant had a little miniature feud that erupted. 
At an event, The Game posted a video of him hitting a 3 with a caption that said that Durant said if he hit it, Durant would donate $20,000 to The Game's charity organization. He hit it.
But then, TMZ asked Durant about betting $20,000 on a basketball shot with The Game, which Durant denied. The Game then flipped out about it. Then KD had to go on Twitter to clear it up. 
Finally, apparently the two straightened it out. From The Game: 
Had a conversation with @easymoneysniper this morning & we both agreed that there was a miscommunication between the middle party which was "TMZ" & that the way the camera man presented it to him was as if he bet me $20,000 cash which wasn't the case.... We agreed that if I hit the 3 point shot he would get KD gear & his kicks for all the kids in our @froggallstars organization which is close to 130 children.... 130 kids at a price of maybe $150 a shoe & gear after tax equals close to $20,000 give or take so that's where that # came from. When I woke up & had multiple texts & calls saying KD called me a liar on TMZ, I acted immediately in clearing things up on my end on my page & didn't have a # on @easymoneysniper to clear it up privately which is what I should've done because the situation that was meant to be friendly & charitable to the kids & is now blown out of proportion.... But again, after talking to KD this am he again agreed to get all the kids his kicks & KD gear & also stated he was taken back by the $20,000 cash because that wasn't what was agreed on by us..... It was a friendly bet that was only purely beneficial to the kids in our program & I'm glad we straightened it out in the end & I personally told @easymoneysniper my bad for jumping the gun due to what I read on TMZ this am. It was truly a miscommunication.. I could've chose my words a bit wiser & made it a little more clear.... So on behalf of all the kids, myself & the @froggallstars organization, we want to thank him again for looking out for our kids & our fast growing program, it's very much appreciated - The Game #froggallstars #therobinhoodproject #nikebasketball #weready #aau #KD #MvP #ThankYou
via Photo by The Game.
Glad that's cleared up. But the curse of Lil' B still lingers over Kevin Durant and the Thunder. 
Kevin Mackey says he gave Manute Bol a birthday because they didn't know how old he was

Hosts Bill Reiter and Reid Forgrave are joined by America's Lakers Podcast co-host Aaron L...

Meanwhile, we learned the hard way just how many supporters Lonzo Ball still has out there
The fifth-year forward has continued his growth on both sides of the floor

Former Vegas bookmaker Micah Roberts just locked in his pick for this huge Wednesday night...

Another tough blow for a Clippers team that has lost nine games in a row