Kevin Durant and the Thunder are putting a scare into the West
With their All-Star point guard sitting fashionably on the bench, the Thunder have ripped off five straight against some very good Western teams.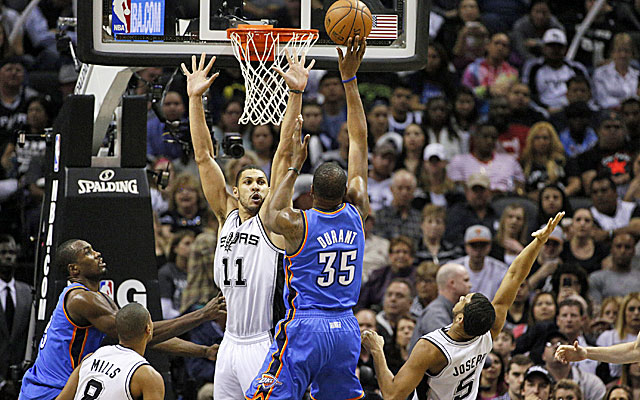 With the mode Kevin Durant is currently in, it really just seemed inevitable. 
He had *only* 27 points with 4:54 left in the fourth, and was 1-5 in the fourth quarter. Maybe the magic was running out, maybe this stretch of offensive absurdity was finally going to fade. He was missing shots he typically feasts on, open midrange jumpers with a little lean on them, just the way he prefers them. 
But it was always coming. Durant was always coming. 
He got back on track with a backdoor lob set up by Jeremy Lamb with 3:11 left. He missed his next shot -- another clean look from about 10 feet -- but maybe the problem for Durant was he was too close, and too open. In this run of games where he's dropped 30 or more in now nine straight, his signature shot has been ridiculously difficult ones, most often from 3. So with the Spurs pushing, down four with under two minutes left, Durant summoned his powers once again and splashed a 3 from the right wing. 
After a Serge Ibaka dunk that was answered by a Tony Parker jumper, Durant set out to unleash another one of his heatseekers at the rim. This one came from somewhere in the 25-28-foot range, an awkward, off-balance attempt that wasn't going anywhere but the bottom. Dagger, 1:07 left, and the Thunder now up 10. 
Kevin Durant: 36 points on 12-of-22 shooting, seven rebounds and five assists. One big blemish in his box score, though? A career-high 11 -- yes, eleven -- turnovers. Durant's offensive prowess made up for most of that mess, but it also meant that he needed a bit of a bailout. And he got it from potential Spurs killer, Reggie Jackson.
In three games against San Antonio this season, Jackson has amassed 71 points on 30-of-45 shooting. His latest installment on Wednesday was a 27-point, eight-assist masterpiece on 12-of-17 shooting, which included 3-of-3 from 3. With Durant slipping a bit in the fourth, it was Jackson who played the part of Russell Westbrook, scoring 11 consecutive points for OKC.
It was everything the Thunder needed in a big moment to secure a fifth straight win, four coming against Western Conference playoff teams. On back-to-back nights, the Westbrook-less Thunder beat the top two teams in the West, took a 3-0 season series lead over the Spurs, and reclaimed the top spot in the West. 
And hate to clue you in, rest of the NBA, but this team isn't better without Russell Westbrook. Not anywhere close. Because remember: With their electric All-Star point guard, the Thunder are 21-4 this season. Durant might be capturing out imaginations with his virtuoso performances, but the Thunder most definitely are better team with Westbrook. 
So assuming Westbrook comes back in the kind of form he was in prior to his second arthroscopic procedure, the Thunder are going to be featuring a team that has released a fully operational Kevin Durant on the world, with players like Reggie Jackson, Jeremy Lamb and Serge Ibaka finding their full voices on the roster. 
Another thing: Westbrook returned from his first knee score roughly four weeks ahead of the timetable given by the team, and maybe not coincidentally it came the game after OKC looked completely helpless in Minnesota in a 19-point loss. With the way the Thunder are playing now, it gives Westbrook maybe a bit more patience in getting back. He's obviously itching to get a piece of the floor with this incarnation of Durant, but he's at least not having to sit and watch futility. 
And in the meantime, Westbrook might've given Durant his greatest assist yet. By missing all these games, he's opened the door for a much-needed MVP narrative, one that Durant has built swish by swish, averaging 37 points on 50-40-89 shooting splits in the month of January. It's just absurd basketballing. 
The next airing of the Kevin Durant Show? Friday in Boston. Set your DVRs. 
Warriors' forward doesn't understand the reasoning behind the all-too-common double technical...

Hardaway Jr. gave a 'safe' call like he was an umpire in baseball

Barnes hits the trey with less than a second left to lift Mavericks to dramatic 95-94 vict...
Kevin Durant was once again back in Oklahoma City

Gregg Popovich has never seen an injury lead to the issues that Kawhi Leonard has been fac...

Kobe Bryant, of course, had his 81-point game against Rose and the Raptors back in 2006