Kevin Durant: 'It's time for Dwyane Wade to pass the torch'
Thunder forward says again that James Harden is a top ten player over Dwyane Wade and that the Heat star needs to be ready for the next generation.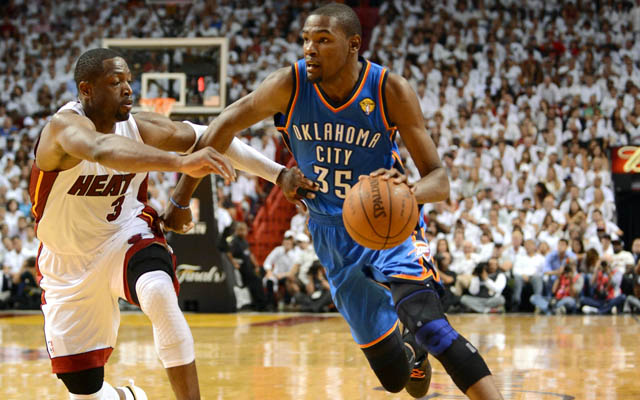 In an interview with EuroHoops.net, Thunder forward Kevin Durant reasserted his feelings about how James Harden has passed Dwyane Wade in being a top 10 player, and went on to say that Wade should accept it, and "pass the torch." 
"But I stand by what I say. A lot of people disagree with me, but it is what it is. It's nothing against D-Wade, he is a great player, he set his mark in the league, he is one of the best shooting guards ever, but like I said, I just thought, that as an older guy, it's time to pass the torch to the younger guys. Just like somebody did to him, just like somebody did to me and I will have to do the same later on. So I just thought it was his time".
via "It's time for Wade to pass the torch" | Eurohoops.
The whole thing started when Durant told CineSport that James Harden was a top ten player and should have been in Sports Ilustrated's Top 10 players list and not Dwyane Wade. Wade took exception on Instagram, and Durant stuck by his position once camp opened. 
This is a pretty old chestnut in the NBA. Aging player refuses to accept that he may have lost a step, young player thinks he should provide opportunities for the younger players. From Magic and MJ on down, it's been told over and over. The question is whether Wade legitimately has fallen off or not. In our EOB Elite 100, Harden came in one spot behind Wade, at No. 8 vs. No. 7. 
Wade seemed to struggle last year, but then would go through a surge. He seemed absolutely done in the series against the Pacers, then responded with a 21 points, nine rebounds performance in Game 7 to close out Indiana. Then again, he struggled in the Finals, before responding with 32 points in Game 4, and 23 points and 10 boards in Game 7 to win his third title. 
So he's got a little bit of a point in saying he's not done. 
But Harden is on the rise, and arguably was more consistent and more efficient last year. Wade's injuries and age have compromised his defense enough to close that gap (Harden struggles in that area). It's really a very good debate. 
And regardless of who's better, it's going to be a fun situation to watch when the Thunder and Heat play one another this season.
The fifth-year forward has continued his growth on both sides of the floor

Former Vegas bookmaker Micah Roberts just locked in his pick for this huge Wednesday night...

Another tough blow for a Clippers team that has lost nine games in a row
The All-Star forward injured his wrist during Sunday's loss to the Lakers

LaVar said recently that Walton doesn't know how to coach Lonzo

Kevin Durant returns to OKC to take on his former team