Kevin Durant lists all-time starting five, excludes himself and LeBron
Magic, Kobe, MJ, Duncan and Shaq make the list for KD, who doesn't take himself or LeBron. Could that team play together well?
Kevin Durant is overseas as part of a Nike promotional tour for the KD 8, and spoke with website NBA Maniacs, which is published in Spanish. He was asked who his all-time starting five would be, and Durant gave a pretty informed answer, which does not include his friend LeBron James. From NBA Maniacs, with a sloppy translation from Google Translate: 
Finally, many of your supporters have asked us to ask you about your ideal team in NBA history.
Well, good question. I would stay with Magic Johnson as a basis for their exceptional height, vision and be a triple-double machine. As guard Kobe Bryant is a legend and five-time champion. It's been half-life in the NBA! Michael Jordan like three. Sorry for Larry Bird , but I have to let him out for Kobe. As a power forward is difficult, between Karl Malone, Tim Duncan ... I stay with Tim Duncan . For longevity, the securities and the impact it has had and still has on the court. And Shaquille O'Neal as a dominant power forward.
Source: Exclusive Interview with Kevin Durant, "Grizzlies and Spurs are very tough opponents" - nbamaniacs. 
So I'm assuming that last part is referring to center and not power forward with Shaq, so the lineup looks like: 
PG: Magic Johnson
SG: Kobe Bryant
SF: Michael Jordan
PF: Tim Duncan
C: Shaquille O'Neal
That's obviously an unbelievable five-man roster, but there simply would not be enough shots for Jordan and Bryant. And taking the ball out of Magic's hands to give it to those two would mitigate what Magic could do. Duncan would be fine with taking a lesser role, but O'Neal would want his touches in the post, too. 
However, there would be no rebounds for the other team, not with Duncan and Shaq. Zero, zip, zilch. And the defense 1-5 would be really incredible, even if this included late-prime Shaq where his defensive effort wasn't great. If you're taking these guys out of time, it presents some interesting questions. 
Do you take early prime Duncan, where he was more of a post presence and more athletic, but not as polished? Or the 2014 version who was a DPOY candidate and able to play as part of a larger system? Do you take 96 Shaq who had more athleticism or 2002 Shaq who was simply unstoppable? 
How about Jordan? Do you take 89 when he was breathtakingly athletic and able to make incredible plays, or the 93 version when he was at the peak of his abilities as a scorer? 
Anyway, that's the top five for Durant, which doesn't include himself or LeBron. Hard to argue with that list, though.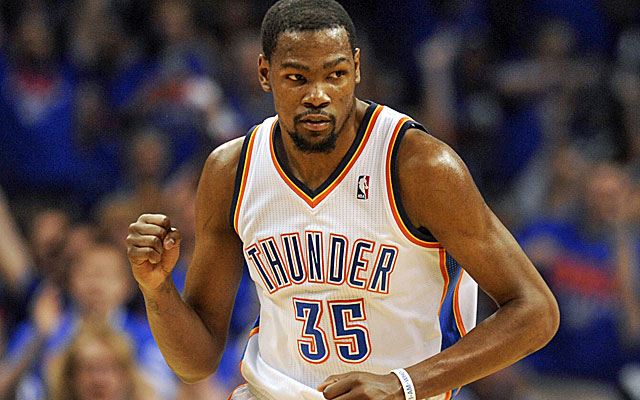 CBS Sports HQ Daily Newsletter
Get the best highlights and stories - yeah, just the good stuff handpicked by our team to start your day.
Please check the opt-in box to acknowledge that you would like to subscribe.
Thanks for signing up!
Keep an eye on your inbox for the latest sports news.
Sorry!
There was an error processing your subscription.
Leonard reportedly could be willing to sit out the entire season, but there would be serious...

Drake's appreciation for DeRozan seems to be greater than the Raptors showed after the tra...

Toronto may only have less than a year to make trading for Kawhi Leonard appear like a smart...
Cousins, facing a lengthy rehab from a torn Achilles, joined the Warriors on a one-year deal...

Keep checking back for the latest updates as NBA free agency continues

Here's a hint: Toronto is still looking up at Boston, at least